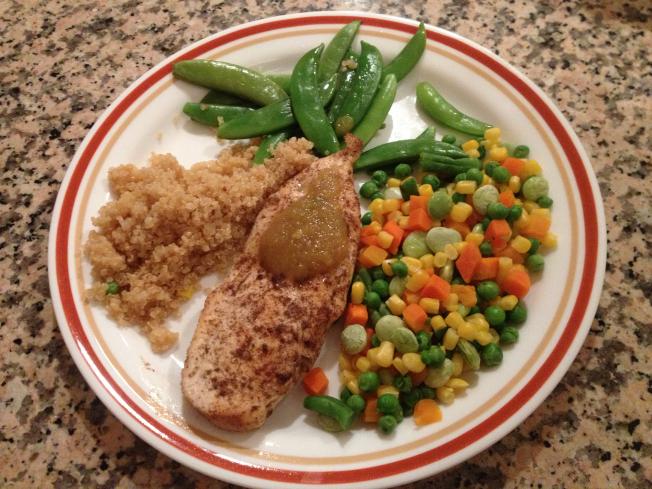 MAIN DISH
This is adapted from Canyon Ranch, although it is not on their website. My husband and I stayed there for our 25th anniversary, and came home with many delicious recipes — many of them involving chocolate – my husband's favorite food group! For more unusual and healthy recipes, visit them on canyonranch.com. And to read more about the health benefits of cardamom, see the related article within the Nutrition section. 
A note about the photo – it's a picture of my son's plate. The abundance of the frozen vegetable medley is something he grew to love while he was living on his own and didn't necessarily have time to cook. Although I'm not a big fan of their taste, frozen vegetables retain the fiber and other nutritious benefits of veggies and can be used as a fail-safe when you don't have fresh veggies around, or the time to prepare them. The ones he uses are shown in a photo below. It's an organic blend without any salt or other added ingredients that he gets from Trader Joes.
Ingredients for spice mix:
(this makes enough for about 15 chicken breasts)
3 Tbsp cardamom
1 Tbsp black pepper
2 Tbsp salt
1 tsp cinnamon
1/4 tsp cayenne pepper (this is medium spicy – adjust up or down, according to taste)
6 – four ounce skinless chicken breasts, boned and defatted
Ingredients for Apple Curry Sauce:
1 Tbsp canola oil
4 tsp minced red onion
1 cup unsweetened apple sauce
1/4 cup water
1 tsp curry powder
1 tsp coriander powder
1 tsp fresh mint

Directions:
Preheat oven to 350 degrees (or prepare grill)
In a small bowl, combine ingredients for spice mix.
Dust each breast with about 1 tsp spice mix. Store remaining mix in an irtight container for future use.
Bake chicken for 10 minutes on each side or until cooked through.
Coat a medium sauté pan with canola oil and sauté onions until translucent. Add apple sauce and water and bring to a simmer, stirring constantly. Add curry powder and mint. Cook until mixture begins to thicken, about 10 minutes.
Serve 1 chicken breast with 2 Tbsp of sauce.