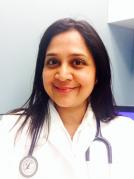 Internal Medicine, Lifestyle Medicine
M.D. University of Mumbai, India
Wellness, management of complex chronic medical conditions
Dr Aruna Nathan is a board certified Internal Medicine and Lifestyle Medicine physician practicing in Montgomery County, Maryland since 1998.
In 2017, she became one of the first physicians in the country to be board certified in Lifestyle Medicine, a new specialty that uses evidence based lifestyle therapeutic approaches to prevent treat and often reverse chronic diseases that are prevalent in modern society.
While receiving her training at MedStar Union Memorial Hospital in Baltimore, she served as a Chief Resident in the Department of Medicine. She has won a number of awards for her work in medicine, including the John H. Mulholland Research Award for Outstanding Research.
After her training, she worked in a private practice where she oversaw patient care at Shady Grove Adventist and Suburban Hospitals. She started her own Primary Care practice in 2001 focusing on management of chronic complex medical conditions in adults. In 2007, she joined Wellness Medical Center as managing partner. Currently she has her own internal medicine practice where she focuses on primary care serving patients from Maryland, DC and Northern Virginia. She also maintains active privileges at Suburban Hospital in Bethesda.
Her practice motto is "Effective healthcare and transparency in medical management incorporating proven scientific data"
Her office's website:
https://drarunanathan.com/about/
She has been nominated by her patients and received the Patients' Choice Award and Compassionate Doctor Recognition on multiple occasions. She is also listed in the directory of America's Top Physicians by the Consumer Research Council of America, is included in the directory of The Leading Physician's of the World ( International Association of Internists), and listed as Top 10 Internists by the American Registry.
Dr. Nathan went to University of Mumbai as a Premed major. She went on to University of Mumbai Medical School, Seth GS Medical School and King Edward Memorial Hospital. She graduated with distinction. After her training in India, she worked as a research assistant in Johns Hopkins Hospital, in studies related to Alzheimer's Disease. Her internal medicine residency was at MedStar Union Memorial Hospital in Baltimore.
Interested? Find Aruna Nathan, M.D. articles in our site.