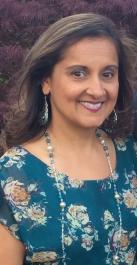 Dentistry
D.D.S, University of Maryland Dental School
B.S., Microbiology, University of Maryland College of Life Sciences
General Dentistry, Aesthetics
Dr. Bhavana Mistry received her Doctorate of Dental Medicine from the University of Maryland and has practiced dentistry for the past 20 years. She is an Aesthetic specialist and focuses on conservative but gorgious smile makeovers. Women love her due diligence that she puts into every element of their front teeth transformations. She sees patients of all ages and is fondly known as the family and cosmetic dentist of Smilez Dental Care.
She is an excellent cook and loves to feed not only friends and families but routinely prepares yummy delicacies for our patients and staff. She is continuously engaged within and outside the practice teaching and training parents and young moms.
Apart from being involved in dentistry and parenting, she is a big proponent of health and fitness for all. She regularly is engaged in her own health and body makeover and inspires many patients to take preemptive actions towards their health begining with mouth. She also loves to hike, ski, sail and most importantly host massive sleepover parties for children of friends and families.
To learn more about Dr. Mistry's practice, visit her at Smilez Dental Care.
Interested? Find Bhavana Mistry, D.D.S. articles in our site.