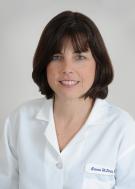 Internal Medicine, Rheumatology
New York University School of Medicine
New York University
Lupus, Arthritis, Osteoporosis
Dr. DiIorio serves as Co-Director of the Osteoporosis Assessment Center, a division of Arthritis and Rheumatism Associates, P.C. She is a Fellow of the American College of Rheumatology, a member of the American College of Physicians and a member of the Medical Advisory Board of the Lupus Foundation.
Dr. DiIorio received her B.A. from New York University in 1983 where she was a member of Phi Beta Kappa and a Magnum Cum Laude graduate. She then attended New York University School of Medicine where she was a member of Alpha Omega Alpha, a medical honor society. She did her internship and residency in internal medicine at Mount Sinai Medical Center in NY, and her fellowship training in Rheumatic Diseases at Baylor College of Medicine, Houston, TX. She was Board Certified in rheumatology in 1994 and re-certified in 2004.
Dr. DiIorio was recognized as an outstanding specialist in Rheumatology in Washingtonian Magazine and Best Doctors in America.
Interested? Find Emma DiIorio, M.D. articles in our site.