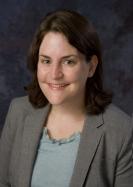 Endocrinology, Diabetes and Metabolism
MD, New York University School of Medicine
BA, Biology, Brown University
thyroid disease; fine needle aspiration of the thyroid
Dr. Jill Paulson grew up in the Washington DC area. She received her undergraduate degree with honors from Brown University and her medical degree from New York University School of Medicine. She then moved to Boston and completed her internship and residency in Internal Medicine at Beth Israel Deaconess Medical Center/Harvard Medical School. She practiced for one year as a hospitalist, then completed a three-year fellowship in Endocrinology, Diabetes, and Metabolism in a combined program between Beth Israel Deaconess and Joslin Diabetes Center. Jill was on faculty in the Division of Endocrinology at Beth Israel Deaconess/ Harvard Medical School before moving back to the Washington DC area in 2013. She is currently an endocrinologist at George Washington University, Medical Faculty Associates.
She is board certified in Internal Medicine and Endocrinology, Diabetes, and Metabolism. Additionally, she holds certification in neck ultrasound (ECNU) through the American Association of Clinical Endocrinologists (AACE) and performs ultrasound-guided fine needle aspiration (FNA) of the thyroid. Dr. Paulson has written several book chapters and articles. She is active in AACE and serves on two of its national committees.
In her free time, she enjoys all things tennis and rooting (and crying) for the Washington Redskins. She tries to travel as much as she can and has been to six continents.
Interested? Find Jill M. Paulson, M.D., ECNU articles in our site.