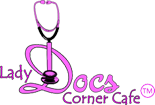 Radiology
M.D. State University of New York, Stony Brook
BS in Mathematics, Dartmouth College
Breast Imaging and Intervention
Judy was born in South Korea and settled with her family in upstate NY. She went to Dartmouth College, graduating with a degree in mathematics. She then went to medical school in NY at SUNY Stony Brook, and completed her radialogy residence training at Brown University in Providence, Rhode Island. Judy was an American College of Radiology Imaging Network (ACRIN) fellow in 2001 and completed her fellowship in Breast Imaging and Intervention at the Johns Hopkins Medical institutions. She is practicing radiologist at Drs. Groover, Christie and Merritt, and predominantly practices in Bethesda, MD.
Judy joined Lady Docs Boot Camp in effort to ward off the effects of her junk food addition. She is married to an attorney and has two daughters. In her spare itme, Judy is a "tiger mom in training" , amateur baker and ramen aficionado. She is a Dunkin Donuts fan and will stop by after boot camp to reward herself for exercising.
Interested? Find Judy Song, M.D., ACRIN articles in our site.