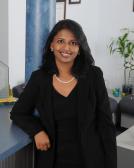 Dentistry
DMD University of Pennsylvania
CAD-CAM Dentistry, Periodontics
Dr. Kalpna Ranadive (Madhavan) is a licensed practicing dentist in Maryland. She has been in dentistry for 20+years and is a leader in CAD-CAM dentistry globally. Bestowed with America's Top Dentist Award for 6 years in a row, her company was a semi-finalist in Nations Capital Business Ethics awards for 2013. She has been featured as a Dental Expert for "A New Me" interview for Fox 5 DC and WUSA Channel 9 TV shows.
At the age of 21, after grabbing one of the top ranks in the highly competetive Manipal Entrance examination. Dr Kalpna gained her Masters Degree in Periodontics from Manipal Institute, India – a top 2% Indian Dental University in India. She went on to become one of the youngest graduating "Gum Surgeons" in India. Her drive to expand her knowledge led her to travel to Boston, MA, where she completed her Fellowship in Implantology.
To further build on her experience after treating countless number of dental patients, Dr. Kalpna went on to complete her Doctor of Dental Medicine from the University of Pennsylvania. Here, she not only graduated Summa Cum Laude, but also was a recipient of the prestigious Omicron, Kappa, and Upsilon (OKU) award. In addition, she received the Best Achievement Award in Pharmacology and Therapeutics Award, National Board Achievement Award and was the only recipient of a Predoctoral Endodontics Award.
Smilez Dental Care is proud to have "All Women CAD-CAM dentists"! With integrative self-healing techniques and innovative technology, you can be rest assured of highest quality of care. If you are a patient looking for CAD-CAM services and seeking high quality, biocompatible "Conservative" crowns, onlays, inlays, and bridges in just one visit Click here to make or schedule an appointment. For more information, please contact us at 877-851-0120 or 301-738-1074.
Alternatively, visit us at www.smilezdentalgroup.com or email us at [email protected]
Interested? Find Kalpna Ranadive (Madhavan), DMD, MDS, FAGS articles in our site.