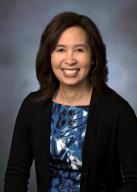 Internal Medicine
M.D. Johns Hopkins University School of Medicine
B.A. Cornell University, College Scholar
Primary care, Wellness, Preventative care
A native of Indiana, Linda spent her childhood years moving around the United States. Besides Indiana, she has lived in Georgia, Oregon, Virginia, Ohio, Massachusetts, California and New York. She attended Brookline High School in the Boston suburbs. She went to college at Cornell University, where she graduated summa cum laude with distinction in all subjects as a College Scholar. She studied Chemical Ecology and wrote her senior thesis on Utetheisa ornatrix, a species of moth that incorporates food as a defense mechanism.
Linda moved to Maryland to attend the Johns Hopkins University School of Medicine. She was privileged to spend two months in Kenya with African Inland Mission serving at Kapsowar Hospital. It was in Kenya that she first saw the serious effects of malaria and infectious diseases on large populations of the world. After graduating from medical school, she performed her internship and residency in Internal Medicine on the Osler Medical Service at the Johns Hopkins Hospital. She was part of the Janeway "Firm of Giants", one of the 4 medical services in the Department of Internal Medicine. She joined on the part time faculty of the Internal Medicine Department of Johns Hopkins Hospital and worked at the East Baltimore Medical Center. She spent time teaching medical students and residents on both the inpatient and outpatient services, in addition to her primary duties seeing patients in the clinic.
In 1999, she joined Foxhall Internists, an internal medicine group located in Northwest Washington DC, where she currently practices. She is board certified in Internal Medicine and has been named to Washingtonian and Checkbook Magazine's Best Doctors lists. She is a Fellow of the American College of Physicians. Linda is active in her church and children's schools. She really enjoys reading in her rare spare time about all aspects of medicine, as well as reading fiction. She loves spending time with her husband and three children. She joined the boot camp in 2010 to get into shape and learn more about the exercise world, which is so important to good health!
Interested? Find Linda Yau, M.D., F.A.C.P. articles in our site.