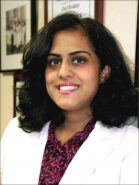 Neurosurgery
M.D., University of Chicago
BS, University of Massachusetts; MS, Massachusetts Institute of Technology
Cervical and Lumbar Spine disease,Endoscopic Carpal Tunnel Release Disease, Neuro-Oncology
Dr. Malini Narayanan, MD, is a board certified neurosurgeon who practices in the Montgomery county area and is credentialed at Washington Adventist, Shady Grove, Holy Cross, Frederick Memorial, and Montgomery General Hospitals. After receiving her undergraduate degree from University of Massachusetts (Amherst, Mass), Malini Narayanan, MD furthered her education through the master's degree program at Massachusetts Institute of Technology (Cambridge, Mass.). Following this achievement, Dr. Narayanan completed her doctoral studies at the University of Chicago's Pritzker School of Medicine (Chicago, Ill.). Her relentless pursuit of excellence led to placement at Brigham & Women's Program and Children's Hospital (Boston, Mass.)–a teaching affiliate of Harvard Medical School–where she pursued residencies in general surgery and neurosurgery, earning numerous accolades including the Congress of Neurological Surgeons Resident Research Award.
Returning to the University of Chicago, Dr. Narayanan augmented her surgical skills through a fellowship in pediatric neurosurgery at Comer's Children's Hospital (Chicago, Ill.), where she also completed her neurosurgical residency as chief resident. Dr. Narayanan was recently featured in the Guide to America's Top Surgeons published by Consumer's Research Council of America and is an active member of the Congress of Neurological Surgeons and the American Association of Neurological Surgeons. Dr. Narayanan's interests are cervical & lumbar spine disease, endoscopic carpal tunnel release surgery, and neuro-oncology both in adults and pediatrics.
Interested? Find Malini Narayanan, M.D. articles in our site.