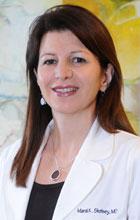 Dermatology
M.D. Washington University School of Medicine
B.A. Wesleyan University, Chinese History and Language
Mohs Micrographic Surgery for Skin Cancer
Maral Kibarian Skelsey, MD, Director of Dermatologic Surgery Center, specializes in Mohs Micrographic Surgery. Mohs surgery has increased the cancer cure rate up to 99 percent for basal cell and squamous cell carcinoma, the two most common forms of skin cancer.
Dr. Skelsey is a fellow of the American Academy of Dermatology and the American College of Mohs Surgery. She graduated with honors from Washington University, School of Medicine, St. Louis, where she served as Chief Resident in Dermatology. After her residency at Washington University in St. Louis, she completed an intensive year-long fellowship in Mohs Micrographic Surgery and Laser Surgery. The fellowship involves advanced training in surgery, pathology and reconstruction. She then served as Chief of Dermatologic and Laser Surgery at George Washington University. Dr. Skelsey is currently Director of the Mohs Surgery Unit and Clinical Assistant Professor of Dermatology at Georgetown University.
Dr. Skelsey is a fellow of the American Academy of Dermatology (AAD). She frequently addresses the American Academy of Dermatology Annual Meeting and instructs their courses. She has published numerous articles in peer review professional journals. She serves as an officer of the Washington DC Dermatologic Society and is a Fellow of the American Society of Laser Medicine and Surgery, the American Society of Dermatologic Surgery and the American College of Mohs Surgery.
At the invitation of The Food and Drug Administration (FDA) Dr. Skelsey was recently appointed a consultant to the General and Plastic Surgery Devices Panel, the Medical Devices Advisory Committee and to the Center for Devices and Radiological Health.
Website: http://www.mohs-md.com/
Interested? Find Maral Skelsey, M.D., F.A.A.D. articles in our site.