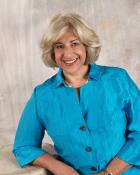 Gynecology
MD, University of Cincinnati College of Medicine
BA, Xavier University
Menopause, osteoporosis, sexual dysfunction, BRCA testing
Dr. Marilyn Jerome was born in Cleveland, Ohio, and attended Xavier University, and then went on to the University of Cincinnati College of Medicine, graduating in 1978. She then moved to the Washington, D.C, where she completed her residency at the George Washington University Hospital. Dr. Jerome is a Clinical Professor at George Washington, and mentors medical students who participate in the Global Health Track.
Dr. Marilyn Jerome has practiced OB-Gyn with Foxhall OB-Gyn Associates in Washington, D.C. since 1982. Dr. Jerome has delivered more than 2000 babies in her career, but now practices gynecology and surgery. Her focus during this part of her career has been on menopausal issues, hormone replacement therapy, osteoporosis diagnosis and treatment, genetic testing for cancer genes, and the treatment of sexual dysfunction in menopausal patients. She is dedicated to helping patients make informed decisions about treatments for menopause, and has been working on a website meant to provide accurate information for women during and after the menopause transition: www.menopausepro.com.
Interested? Find Marilyn Jerome, M.D., FACOG articles in our site.