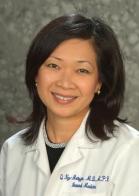 Internal Medicine
MPH, Harvard University; M.D. University of Chicago
Healthcare Research and Policy
Quyen is a general internal medicine physician who specializes in prevention. She provides scientific leadership and support for the U.S. Preventive Services Task Force (Task Force). Since its inception 30 years ago, the Task Force's mission is to improve the health of all Americans by making evidence-based recommendations about clinical preventive services and health promotion. The Task Force comprehensively assesses evidence and makes recommendations to help primary care clinicians and patients decide together whether a preventive service is right for an individual's needs. Prior to her work in the government, Quyen was Associate Professor of Medicine at the University of California, Irvine, and Senior Research Fellow in the Health Policy Research Institute. Quyen's work in behavioral health and primary care has been published in the Oxford Textbook of Community Mental Health and the Handbook of Asian American Health. She has published over 50 peer-reviewed publications in medical journals.
Quyen received her medical degree and internal medicine training at the University of Chicago. She completed fellowship training in health services research and health policy at Harvard Medical School, and completed a Master of Public Health degree at Harvard.
She is the mother of three school-aged children who keep her busy. Quyen enjoys gardening, tennis, yoga, and Zumba in her free time.
Interested? Find Quyen Ngo-Metzger, M.D., MPH articles in our site.