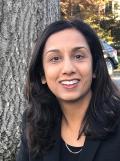 Endocrine, Obesity
Brown University School of Medicine
Obesity Medicine, Weight Management
Renu Mansukhani, M.D. is an endocrinologist who has exclusively practiced obesity medicine and weight management in the Washington, D.C. metro area for 13 years. Her research-supported view is that obesity is a biologically based chronic disease, and she believes her greatest asset is her ability to listen to patients and actually hear them. Dr. Mansukhani is a DC area native, and received her medical degree from the Brown University School of Medicine. She did her endocrinology fellowship and weight management training at New York-Presbyterian Hospital/Memorial Sloan Kettering Cancer Center.
Dr. Mansukhani lives in Arlington, VA with her husband and two children. One of her proudest accomplishments other than being a physician and a mom is the fact that she wrote a children's book with her daughters.
She enjoys watching her kids play sports, and is getting a puppy in 2019 because her kids don't think she has enough responsibilities.
For more information, please see www.pcweight.com.
Interested? Find Renu Mansukhani, M.D. articles in our site.