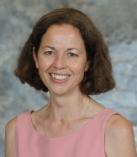 Gastroenterology (GI)
M.D. Johns Hopkins University School of Medicine
B.S. Vassar College; Biology & Psychology
Preventive Healthcare, Nutrition, Dance
Serrin is a recent addition to LadyDocsCafe and the Lady Docs Boot Camp. She decided to join after her friend Julia Korenman M.D., strong armed her into getting up early on Saturday mornings. She was raised by a family that encouraged regular exercise. When she was a youth, her physician grandfather would rearrange her bed linens at the crack of dawn, feigning concern that she might be cold, but actually hoping to have her accompany him in early morning exercises. Participation in a sport was encouraged by her father. Serrin did not disappoint and swam at the Pooks Hill YMCA while attending Bethesda Elementary and Pyle Junior High. At Sidwell Friends, she tore her medial meniscus and so left gymnastics to keep statistics for the boys varsity baseball team. At Vassar College she remembers playing inner tube water polo and combing the snow out of her hair returning from the gym pool in winter.
When Serrin went to Johns Hopkins for medical school and an Internal Medicine residency, there was no longer time to get to and from the gym, so she started to run outside and has run ever since. This, in conjunction with dancing the tango, has helped her maintain a sunny disposition. Like Dr. Korenman, she is currently practicing as a Capital Digestive Care Gastroenterologist/Hepatologist in Montgomery County, having completed a GI fellowship at Yale University. She has served on the Maryland Board of Physicians and is old enough to have passed her Boards 4 times. You may see her ushering at Strathmore, running along the canal or dancing the tango at Freedom Plaza. She is delighted to have joined the Lady Docs Boot Camp, a new family!
Interested? Find Serrin Gantt, M.D. articles in our site.