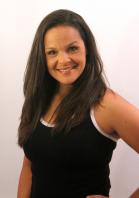 Certified Personal Trainer, American College of Sports Medicine (ACSM)
University of Brasilia in Communications/Journalism
Weight loss and Exercise, Metabolic Effect training.
Ty was born and raised in Brazil. She earned a BA in Communications/ Journalism at the University of Brasilia, then worked as a TV news reporter. When she moved to the US in 2002, she initially was a medical interpreter for major hospitals in the greater Boston area. She then moved to North Carolina, where and was an office manager for a nutritional practice before becoming a certified personal trainer through the American College of Sports Medicine (ACSM). She's also a certified Metabolic Effect instructor and a TRX coach.
Ty worked for one of the biggest gyms in Maryland from 2009 through 2014. She taught popular group exercise classes and programs, had a fast growing business as a trainer, and was promoted to Fitness Director in August 2011, to lead a highly qualified team of 22 trainers.
After having her second child in December 2013, Ty decided to step down from management to spend more time with her children. She launched her online company FitnessbyTY.com , coaching fat loss, and teaching online live Metabolic Effect classes. The convenience and no-excuse format makes it a very popular resource for anybody who wants to get a great workout and transition to a fat loss friendly lifestyle.
Ty believes your mindset can take you to your ultimate goals. Since 2006, Ty has run 13 marathons and 1 ultra-marathon (50-mile race) and many shorter races. Always eager to translate her passion for fitness into helping others, she acquired several training certifications, focusing mainly on fat loss/weight loss, and on how to help clients with chronic physical problems so they can maintain a healthy lifestyle.
Interested? Find Ty Yonkovich articles in our site.