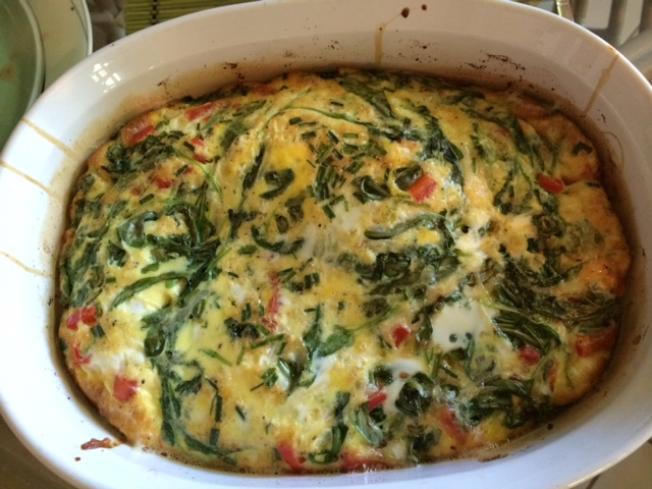 Frittatas easy to make. They're great at room temperature, so they are perfect for summertime – cook it in the evening when it's cooler, and serve it the next day without heating up the kitchen. One warning from the original author, though: Resist the urge to cut back on the oil. It's all that stands between you and a stuck-in-the-pan mess.
Servings: 4-6
Ingredients:
8 large eggs, lightly beaten
1/3 cup regular or 2 percent milk
1/3 cup grated Parmesan cheese
1 tablespoon chopped chives
Salt
Freshly ground black pepper
1/3 cup extra-virgin olive oil
3 coarsely chopped spring onions (scallions), white and tender green parts only
2 ounces (about 4 cups) arugula
Feel free to add in other vegetables, such as red pepper, and add to the scallions early on.
If you don't have an oven-proof skillet, prepare the spring onions and arugula on the stove, then pour into an oven-safe casserole and add the eggs, then place in the pre-heated oven.
Directions:
Preheat the oven to 425 degrees.
In a large bowl, whisk together the eggs, milk, Parmesan cheese, chives and salt and pepper to taste. Set aside.
In a 10-inch nonstick, ovenproof skillet, heat 2 tablespoons of the oil over medium heat. Add the spring onions and cook until softened, 2 to 3 minutes. Add the arugula, cover the pan and cook for 1 minute. Remove the cover and stir the arugula just until it wilts. Add the remaining oil and increase the heat to medium-high. Let the oil heat for 1 minute, then pour in the egg mixture. Use a fork to evenly distribute the arugula without scrambling the eggs. Cook for 1 to 2 minutes without stirring until you see the edges just starting to cook. Transfer to the oven.
Bake until the frittata has puffed and browned around the edges and is firm in the center, 8 to 10 minutes. To serve, slide the frittata onto a platter or invert the frittata onto the platter so the browned side is face up. Serve warm or at room temperature.
Adapted from the Washington Post