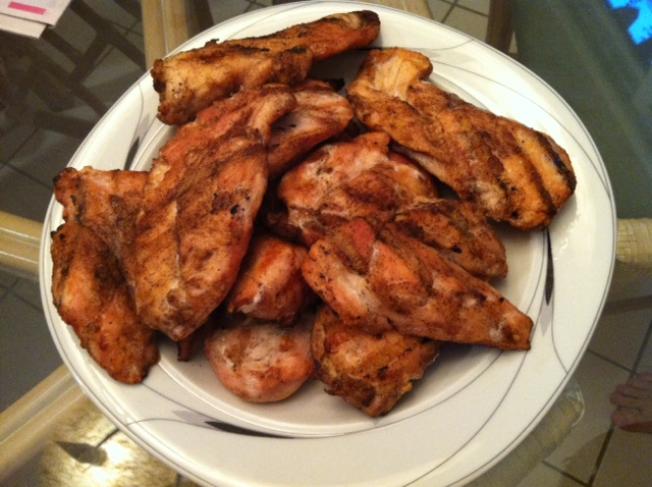 From www.canyonranch.com
Don't let the number of ingredients scare you off – mix this up once and save it in an air-tight container for months. It's great for an instant at-home dinner – prepare a salad and steam some veggies while the chicken is grilling, and voila!
As an easy way to cut portion size without anyone noticing, I slice the chicken breasts horizontally to make two servings out of one. That way, there should be an adequate amount of protein, and the taste of the spice rub is more prominent. People can always have 2 portions if they choose.
Ingredients:
3 Tbsp Old Bay seasoning
1 Tbsp paprika
1 Tbsp chili powder
1 Tbsp onion powder
1 Tbsp garlic powder
1 1/2 tsp dry thyme
1 1/2 tsp dry mustard
1 Tbsp dry basil
1 1/2 tsp dry oregano
3/4 tsp cayenne pepper
1/2 tsp freshly ground black pepper
1/2 tsp cumin seed
1/2 tsp curry powder
Directions:
Combine all ingredients in a small air-tight container and mix well.
Makes 2/3 cup, each 1 tsp serving contains approximately:
5 calories
1 gm carb
0 gm fat
0 gm chol
0 gm protein
157 mg sodium
0 gm fiber
We served this with grilled corn – prepared with the husks on the top level of the grill. Turn occasionally and check after about 20 minutes. Some recipes recommend removing the corn silk and/or soaking the corn with the husk in water for 30 minutes, but I haven't tried that.
Also, my son threw together a salad of greens, berries and mango that was wonderful. See below for a quick way to cut a mango. There's a long thin pit in the center. With the skin on, cut the mango from top to bottom, along the long flat sides of the pit. Then score around the outer edge and then in a checkerboard pattern. Turn the peel inside out and shave the squares off of the peel. Then remove the sides of the mango and cut into squares. The rest remaining on the pit is the chef's reward. Before I learned this trick, I used to try to peel mangoes – that is difficult to do!