We had a virtual blast preparing this soup as part of KindSoups efforts to deliver food to those in need.  Each week for the past year, we've been cooking together via Zoom, making enough soup for our own family's dinner, plus enough to freeze and deliver meals for friends who may be hitting a rough patch and families affected by COVID19 and the resulting economic stress. More recently we've been honored by having Afghan chefs leading our sessions, then sharing the soup with those who have been relocated to our area from Afghanistan, so that they too can be welcomed with a delicious and nutritious meal. This week, we were honored to have our own Dr. Nadia Hashimi and her dad, Said, a retired deli owner, lead us in preparing this delicious butternut squash soup. It was so delightful cooking and chatting with them. Feel free to join us in weeks to come for other cooking adventures. See information about cooking with us on Monday, October 18th, 2021 at KindSoups and find more info about the award-winning hosting organization KindWorks, which does amazing community building and offers many opportunities for volunteering.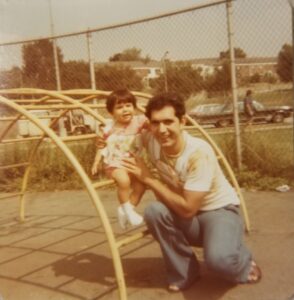 Dr. Nadia Hashimi is a pediatrician, novelist, and a former Democratic congressional candidate for the United States House of Representatives for Maryland's 6th congressional district! Hashimi is the author of three international bestselling novels, The Pearl that Broke Its Shell, When the Moon Is Low, and A House Without Windows, and her latest, Sparks Like Stars, which is my personal favorite.
Said Hashimi left Kabul, Afghanistan in 1971 and landed in New York City to begin his American Dream. He has built his American dream around food, and spent the last three decades of his official working career as the co-owner of an Italian Deli in Warwick, NY. He built bridges with people in the community and the Afghan cuisine he introduced into the weekly lunch special rotation quickly became a hit. Among his kitchen specialities were a rotation of soups for the fall and winter seasons. These days, he spends his time being a best friend, chaperone, and chef to his 6 grandchildren and volunteering with newly arrived Afghans.
BUTTERNUT SQUASH SOUP – AFGHAN STYLE
Makes 4 quarts
INGREDIENTS:
3 Large Butternut Squash peeled and cut in small cubes (I cheat and buy it pre-cut)
4 Large Carrots Pealed and cut in small cubes (add or substitute sweet potato)
2 Large Onion cut in small cubes
6 Cloves of Garlic peeled and chopped
1 Bunch of Cilantro washed and chopped
2 teaspoons of salt
2 teaspoons of white pepper
1 Tablespoon of Curry powder or Ground Turmeric
2 Tablespoon of powdered Vegetable Base or 1 bouillon cube dissolved in a small amount of water (I use vegetarian Better Than Bouillion, about 1 Tbsp for this)
3/4 Cup of Vegetable oil
2 Quart of boiling Water
DIRECTIONS:
1- Heat oil in a 10 Quart Pot.
2- Add onions to hot oil and stir until they are almost brown.
3 – Add garlic and stir for one minute at medium temperature.
4- Add the salt and stir for one minute.
5- Add the cubed butternut squash and carrots ( and/ or sweet potato) in the pot and stir for about 5 minutes. Add curry powder (or Turmeric), vegetable base, white pepper, and most of the chopped cilantro. Stir for a few more minutes.
6- Add two quarts of boiling water to the pot or enough to just cover all the vegetables. Stir it and cover the pot. Cook on medium heat and stir once in a while until the squash and carrots are soft enough to be cut by a fork or spoon, then turn off the heat.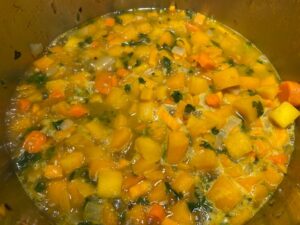 7- Now it is time to pour it in the blender in batches, pouring the blended portions into a separate large bowl. Repeat until the full pot has been blended. Some blenders don't tolerate hot liquids, so you may need to let it cool. Leave plenty of room at the top of your blender container, and you can remove the center part of the lid and cover with a clean dish cloth to allow steam to escape – but not the soup!
8 – It's ready to serve in a bowl. Consider adding a small spoon of sour cream, or yogurt mixed with minced garlic and garnish with touch of cilantro. Enjoy!