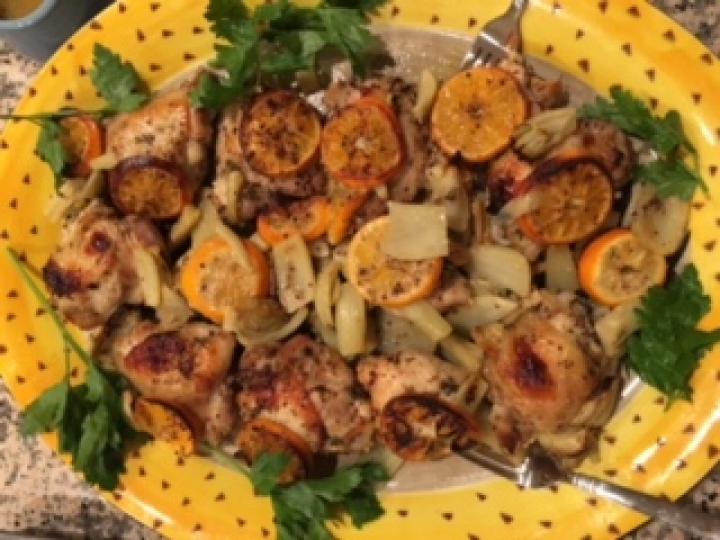 Roasted Chicken with Clementines and Arak (or Ouzo)
I was fortunate to receive a bottle of ouzo from one of my dear Greek patients. When I was in Turkey, I enjoyed relaxing over a small glass of ouzo, turned cloudy with ice. When I mentioned to one of my nurses, Shula, that I was so happy to be going home to have some ouzo that evening, she mentioned a recipe she had just tried using it, or arak, from "Jerusalem, A Cookbook" by Yotam Ottolenghi and Sami Tamimi.
This is a beautifully illustrated cookbook, with as much information about Jerusalem and ingredients as about the recipes themselves. As one of the reviewers said, the authors "… thoughtfully explore the way a tapestry of cuisines comes together into the vibrant, bold and unique foodscapeof Jerusalem. It's a volume that makes you want to cook. It makes you want to eat. And it makes you want to travel." It was the winner of the 2013 IACP Cookbook of the Year Award and the 2013 James Beard Award for Best International Cookbook.
It was given to my daughter as a gift, and we hadn't yet gotten to try it. Other enticing recipes are roasted sweet potatoes and fresh figs, basmati and wild rice with chickpeas, currants and herbs, chicken sofrito and a few recipes with cardamom (which we brought home from Turkey) for rice pudding and another chicken dish. Now that I'm looking through it, there are dozens of recipes I'd like to try – all with new mixes of ingredients.
This recipe for chicken with clementines and ouzo is wonderful for serving to company, as it makes a beautiful presentation. And, as with many dishes, tastes better a day or two after preparation.
Ingredients:
6.5 Tbsp arak, ouzo or Pernod
4 Tbsp olive oil
3 Tbsp freshly squeezed orange juice
3 Tbsp freshly squeezed lemon juice
2 Tbsp grain mustard
3 Tbsp light brown sugar
2 medium fennel bulbs
1 large chicken 2 3/4 pounds divided into 8 pieces, or same weight in skin-on, bone-in chicken thighs
4 clementines, unpeeled, cut horizontally into 1/4 inch slices
1 Tbsp thyme leaves
2 1/2 tsp fennel seeds, lightly crushed
salt and freshly ground black pepper to taste
chopped flat-leaf parsley, to garnish
Serving suggestion — serve over plain couscous, or alongside potatoes or roasted veggies in olive oil.
Directions:
Put the ouzo, olive oil, OJ, lemon juice, mustard and brown sugar in a large mixing bowl and add 2.5 tsp salt and 1.5 tsp black pepper. Whisk well and set aside.
Trim the feel and cut each bulb in half lengthwise. Cut each half into 4 wedges. Add the fennel to the liquids, along with the chicken, clementine, thyme and fennel seeds. Stir well, then leave to marinate in the fridge for a few hours or overnight (or not if you're in a rush).
Preheat the oven to 475. Transfer the chicken and its marinade to a baking sheet large enough to accommodate everything comfortably in a single layer (I used a broiler pan). The chicken skin should be facing up. Roast for 35-45 minutes until the chicken is colored and cooked through.
Lift the chicken, fennel and clementines from the pan and arrange on a serving plate; cover and keep warm. The recipe calls for pouring the cooking liquid into a small saucepan, on medium-high heat, and simmer until reduced by one-third to leave about 1/3 cup in the pan; then pour over the chicken. I did not reduce it, and used some of the cooking liquid from the broiler pan on the chicken, and left the rest for guests to use as a gravy of sorts. Use parsley around the serving dish for garnish.
Enjoy!