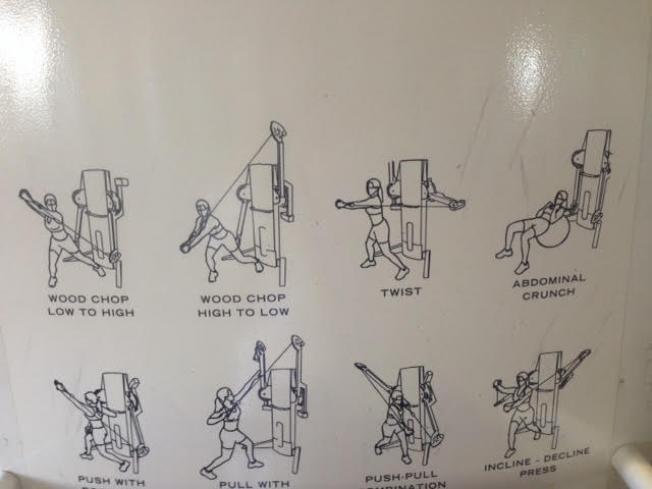 I read my friend Dr. Julia Korenman's blog a few weeks ago about why she exercises. Julia is a better athlete than she admitted, and a disciplined one when it comes to fitness. She comes out to walk or jog on the C&O even in the deep winter. For anyone who devotes a big chunk of her busy time each week to exercise, there always seems to be a point of "awakening," the recognition that we need to do something to improve our health. The awakening came to me in my early thirties.
One afternoon, my sister-in-law invited me to jog with her for a mile. It was the first time for me to jog, for any distance! I was not overweight; I was just a "couch potato" outside of work. Within a quarter mile, I stopped on the road, hyperventilating with my face all hot and sweaty. I had chest pain and felt lightheaded. My sister-in-law was worried and urged me to walk back home with her. The following week, I joined a gym near my office. My younger sister was already a gym rat by then. She played tennis quite intensively in addition to going daily to her gym. She invited me to her gym to my first "step aerobic" class. While she was jumping and swirling in the air, the instructor was horrified as I couldn't follow her instructions. I landed on the wrong side of my bench, facing the wrong directions many times and stopping multiple times to breath and drink water. I was embarrassed.
A year later, I was going to the gym sometimes twice a day for at least five days weekly, often at 6 am then returning after work for another two hours of hard workout. I had a personal trainer for a few years twice a week to show me how to lift weights. I went to aerobic classes which were mostly step areobics, a class where a bench is placed on one or more sets of "risers," and students would follow the instructions to jump, skip, turn or slide quickly from one side to the other. The more advanced class members would use more than one set of risers so she would be even more elevated from the ground, making the jumps, slides and turns more difficult. After the step aerobic classes, I would stay for another hour of " kick boxing" or running on a treadmill. Eventually, cycling classes were introduced and I was among the first in the gym who experienced these intense cycling or "spinning" classes where we biked to the pace and rhythm of songs while our instructors hollered at and cheered for us to keep us up with the beats. I still don't know how I could go through more than one class with no food or rest. One of the participants in my step aerobic classes even told me how she often stopped her routine and went to the back of the room just to watch me jump and turn. She was fascinated with how passionate I was with my moves and how well I did. I looked as if I was "high," she told me.
She was right. I felt as if I was nonstoppable. There was an endorphin rush that went away only when I walked away from the gym. I had that yearning to come back whenever I left, as if I couldn't wait to come back. I knew I was exercising for health, but I had this desire to better myself the following time I went into the gym. I understood the rush the Olympians must have felt when they competed with each other. I was competing against myself. I was curious about how far my body could go and wanted to reach that limit. Fortunately, I was not injured, well, except for a neck injury years later during a weight lifting session when I was not focused on my form. The injury stopped my exercise routine for two months.
As my youth flew by, I became a more mature gym rat. Except for the three marathons and an Olympian distance triathlon when I had to train hard and long, with the goal of not walking when I was supposed to run, or not floating on my back when I was supposed to swim, I have "mellowed down." I see one patient after another going through orthopedic procedures to correct their spine, hips or knees. A long distance swimmer I know is suffering arthritis pain, while a long distantce runner who used to train by running more than sixty miles a week is about to have a hip replacement. They are amazed that I am still strong, luckily strong. At this point, I exercise to maintain my good health, not to see how far my body can go with a particular exercise. I am a pre-diabetic and plan to exercise for as long as I can. After two decades, I have learned more from evidence-based studies how exercise can prevent high blood pressure, heart disease, diabetes, depression, Alzheimer's, and many cancers. The list could go on and on, which makes me wonder why many of us still refuse to exercise knowing all these facts?
I now reduce my workout to four or five hours weekly. I have a family to take care of outside of my job. My workout is still intense but shorter and more balanced. I even try to make the workout more convenient and effective to save time. Twice weekly, I join a few friends for a live online "metabolic conditioning" classes, an interval training session which lasts only thirty minutes but has the intensity and speed of an intense one hour workout. The trainer, Ty Yonkovich, a high energy Brazilian woman, literally beats us down each time using just a pair of free weights and a yoga mat. We can see her on our computer screen, and she can see us and correct our moves. For thirty minutes, we work our arms, legs, abdomen, heart through all the rapid and nonstop moves. I look at a clock nearby our computer to make sure she doesn't go overtime, as the last few minutes seem to be an eternity. I can see my friends struggling on and off on the screen, taking breaks by drinking water or just standing with their head down to their knees for a few seconds before going back to the workout. After the class ends, Ty "unmutes" us and we say hello or goodbye to each other unless we have more stories of the day to tell each other over the computer. We look disheveled sometimes but we all know we had a good workout. To survive her class, our fitness level is not so bad!
Almost every Wednesday evening, I go to the gym for a " bootcamp" class similar to Ty's. This "KC Beatdown" class, named after the trainer KC, is an hour long where the participants are divided into eight groups. We move from "one minute station" through another, with the ninth station being a "rest" one where we have a minute to recover, drink water or catch our breath. The stations vary with weights or high energy aerobic moves, such as squat jumps or "burpees," feet on sliders while hands doing pushups etc… We do four and a half rounds of eight stations. The session is so exhausting that we holler and clap every time the fourth round ends, knowing each station in the fifth round requires only thirty-seconds. I often drag myself out of the class but, at my age, it's an accomplishment to be able to move as fast, lift as heavy, or jump as high as I can and keep up with the young crowd around me. It gives me great satisfaction to use the same weights as the men in my group, or heavier weights than the younger women. I feel like an aging Olympian but it shows how when we start exercising in our younger years and keep up with it, we can be as strong as those younger than us.
I no longer have a trainer, which gives me the flexibility of coming to the gym whenever time allows to lift weights for an hour. In the weekend, whenever I am in town, I come to our LadyDocs bootcamp or run five miles on the C&O canal on Sunday morning with the same group of friends. Sunday afternoon, I join other friends for an hour of yoga. I used to "look down" on yoga, as the moves seemed to be slow, too precise and low energy. I now realize the value of yoga as we age, the flexibility and strength its moves render. Every exercise has its useful purpose.
It's never too late to try a new exercise. The only difference between the fitness world now and twenty years ago is the expensive "boutique" gyms catering to those who don't mind spending the money to keep their fitness interest up. Each boutique gym offres one kind of exercise, whether it's cycling, kickboxing, or bootcamp. Many of them try to push the human body beyond its usual capacity, to craziness. I heard how people lift weights heavier than their own body weight, do reverse pushups with legs on the wall and hands on basketballs on the ground. The participants feel like extraordinary Olympians, but I fear one by one, they will rotate through orthopedists' offices with herniated discs or injured knees. They might have to quit exercising before their fifties.
I once was a obcessive gym rat who was addicted to exercise. I now have more time for books and newspapers, more time to stretch and watch the sunset, as compared to the old days when I walked into the gym in late afternoons when the sun was still out, and went home when it was really dark. I have dinner almost everyday with my family and no longer eat alone as in my early thirties. I have a more balanced life when I exercise for health, not to test the limits of my body. I am a more mature "athlete," a more balanced and flexible one who appreciates the benefits of peaceful moves like yoga. I also have become a wiser, as I age, to recognize the importance of friendship. Most of my exercises now are with friends. A more sociable, mature, balanced gym rat, I believe, will last longer in the rat race of fitness.