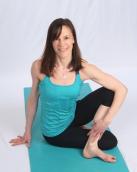 Yoga Instructor, Personal Trainer
University of Delaware, Communications/Art; Hot Yoga, D.C., 200 Hour Iyengar Teacher Training (focus Hatha/Vinyasa) Certified Yoga Teacher & Personal Trainer, Reiki Level I, Personal Nutrition Certification
Yoga, with Focus on Hatha and Vinyasa
Debi Schenk, founder of trueUyoga, is a certified and registered instructor. She began practicing yoga over 16 years ago. It made such a positive impact on her both physically and mentally that she continued to explore yoga. After trying the Anussara, Hatha, Sivananda, Ashtanga, Iyengar, and Vinyasa styles, Debi decided to focus on Hatha and Vinyasa. What she thought of as a hobby became a passion and a pathway to helping others.
Debi genuinely enjoys helping others discover all of the amazing benefits of yoga. Yoga has become part of who she is and she feels at peace while practicing and guiding others. When students say that they enjoyed her class, she knows that she has made a difference in their day.
Debi's yoga background combined with her extensive alternative health experience makes her unique. For over 17 years, she worked at an executive level for a company that produced cutting edge health content, nutritional supplements, organic foods, and natural skin care products. She continues to consult in that arena and loves to share healthy lifestyle and nutrition tips with her students .
Debi is also a Certified Personal Trainer and creates exercise plans based on the personal and acheivable goals of each client. She received her Level I Reiki Certification as well as her Personal Nutrition Certification in 2015.
Interested? Find Debi Schenk articles in our site.