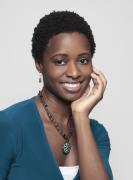 OB/GYN
M.D., Emory University School of Medicine
B.S., Biological Sciences, University of Maryland Baltimore County
Professional Life Coach; Personal Trainer
Dr. Senesie is a board-certified obstetrician-gynecologist. She is a native of the Washington DC metropolitan area having grown up in Prince George's County. She is an alumna of the University of Maryland Baltimore County where she graduated magna cum laude with a degree in Biological Sciences. Her medical training took her to Emory University School of Medicine in Atlanta, GA. There she obtained her medical degree and completed her residency training in the Department of Gynecology and Obstetrics. Jattu returned to the DC area after training and spent six years in private ob/gyn practice in Maryland.
Jattu retired from clinical practice in 2010 in an attempt to find a balance between maintaining her own wellness and living a life of service. Since leaving clinical medicine, Jattu has become a certified personal trainer and professional life coach. Her wellness business Essence of Strength is dedicated to helping healers be well. Her particular passion is coaching women in healthcare to prioritize their own well-being as much as that of their patients and families. She blogs about wellness topics on her website essenceofstrength.com.
Interested? Find Jattu Senesie M.D., FACOG articles in our site.