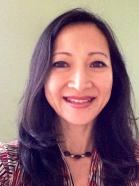 Family Medicine
M.D. University of Virginia; MPH, Uniformed Services University of the Health Sciences (USUHS)
B.S. University of Virginia
Integrative Medicine, Health and Wellness
Mylène (pronounced "Me Len") and her family left Vietnam after a harrowing escape on a fishing boat to the Philippines in 1976 when she was nine years old. With the support of friends and a local church, her family was sponsored to Dale City, Virginia. A proud Virginian, Mylène obtained both her undergraduate and medical degrees from the University of Virginia.
While in college, she found her calling for military service and joined the U.S. Air Force (USAF) Reserve Officers Training Corps. She completed both Family Practice and Preventive Medicine residency in the military and received her Master of Public Health from the Uniformed Services University of the Health Sciences (USUHS). The Air Force provided Mylène with remarkable experiences, including teaching residents, serving as chief executive officer, directing clinical operations and oversight of multi-departmental joint ventures as well as implementing risk-based population health/prevention initiatives and leading the Air Force International Health Specialist Program. During her Air Force career, Mylène served on over 30 humanitarian and "building partnership" missions overseas. After 21+ years of active duty service, Mylène "graduated" (aka retired) in 2013 at the rank of Colonel to return to bedside medicine.
Board certified in Family Practice and Preventive Medicine, Mylène also practices acupuncture and serves as an Integrative Medicine consultant at the Walter Reed National Military Medical Center in Bethesda, Maryland. Mylène holds appointment as Adjunct Assistant Professor in the Department of Preventive Medicine and Biometrics at USUHS where she teaches medical students.
Health is Mylène's passion; she exercises, practices yoga and mediates on a regular basis. While she has received excellent formal medical training, Mylène credits her patients for inspiring her on the path to discover true healing. Mylène is on a lifelong quest of learning with her patients to experience and integrate effective healing modalities to achieve wellbeing.
As a member of the Crystal City-Pentagon Rotary Club, Mylène is actively engaged in various community service projects. She enjoys gardening, hiking, reading, walking on the beach…and most of all, being a soccer mom. She and her husband of 25 years reside with their "threefinesons" in Virginia.
Interested? Find Mylene Huynh, M.D., MPH articles in our site.