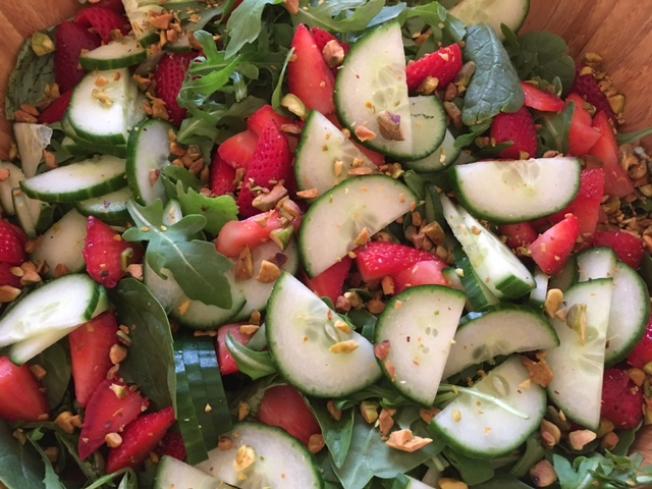 This is a refreshing springtime salad, using whichever greens you have available. I used half arugula and half spinach. Try a taste of strawberry with a shred of fresh basil – great combination! As always, feel free to substitute different greens, different berries. The cucumber slices add some crunch and take up the taste of the light sweet dressing.
More nuts would add to the protein content. For a vegetarian dinner, I had plain lentils that I had prepared earlier in the week, with a little of the dressing. Very satisfying!
Servings: 4
Ingredients:
2 tablespoons walnut oil or extra-virgin olive oil
2 teaspoons white wine vinegar or white balsamic vinegar
1 teaspoon honey
1/4 teaspoon salt
1/8 teaspoon freshly ground black pepper
1/2 head butter, Boston or bibb lettuce, leaves torn (about 5 cups, lightly packed) (or spinach and arugula, my preference)
6 large or 12 small hulled strawberries, quartered if large, halved if small
1/4 English (seedless) cucumber, cut into thin half-moons
2 tablespoons shelled, unsalted pistachios, toasted and coarsely chopped (see NOTE)
8 or more fresh basil leaves, torn
Directions:
Whisk together the oil, vinegar, honey, salt and pepper in a medium bowl to form a dressing.
Place all the other ingredients in a large salad bowl. Shortly before serving, add the dressing and toss. Be sure to mix in the honey that might have settled to the bottom of the dressing container.
NOTE: Toast the pistachios in a small, dry skillet over medium-low heat for a few minutes, until fragrant and lightly browned. Cool completely before using. OR – my favorite, Trader Joes Dry Toasted Unsalted Pistachios.
Calories per serving (using walnut oil): 110
Adapted from the Washington Post
% Daily Values*
Total Fat: 9g 14%
Saturated Fat: 1g 5%
Cholesterol: 0mg 0%
Sodium: 150mg 6%
Total Carbohydrates: 7g 2%
Dietary Fiber: 2g 8%
Sugar: 4g
Protein: 2g
*Percent Daily Value based on a 2,000 calorie diet. Your daily values may be higher or lower depending on your calorie needs.
Total Fat: Less than 65g
Saturated Fat: Less than 20g
Cholesterol: Less than 300mg
Sodium: Less than 2,400mg
Total Carbohydrates: 300g
Dietary Fiber: 25g