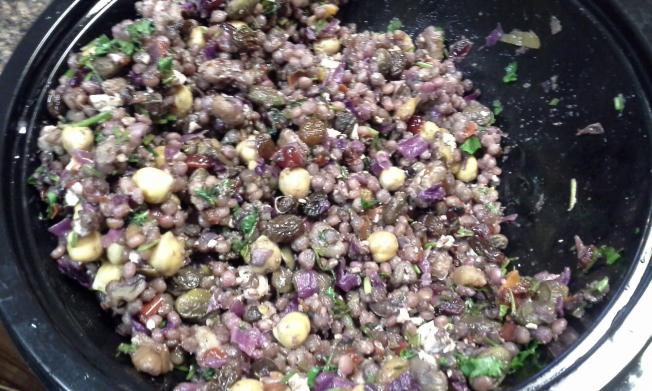 Healthy Couscous Salad
If you need a great light salad to bring to a gathering of friends, this is tasty and full of great ingredients! I often bring this to boot camp to share after exercising. Flavorful and light, the different textures satisfy both the sweet and salty palate.
Ingredients:
1 inches of ginger, grated
Israeli couscous (1 packet of Trader Joe's brand)
Handful of walnuts, chopped
½ of a red onion, chopped
1 red pepper, chopped
1 small red cabbage, chopped
1 small piece of white cabbage, chopped finely
Handful of Edamame (frozen Trader Joe's)
2 cups of vegetable broth
Chopped dried apricot, craisins (handful of each)
Feta cheese, 2 oz. (optional)
Chick peas, ½ cup
Cilantro
Directions:
Heat large sauté pan with 2 teaspoons of olive oil. Saute ginger, then red onions until carmelized. Add chopped red pepper to pan and sauté more. Add cabbages and edamame and sauté until soft.
Add the package of Israeli couscous and a handful of walnuts. Add salt and vegetable broth. Turn flame to low and cover and simmer 10 minutes. Add chopped dried fruit. Simmer 10 more minutes until all liquid is evaporated. Add feta cheese, chick peas and cilantro.
Serve in a large bowl.
Serves: 8 people
Cook time: 30 minutes