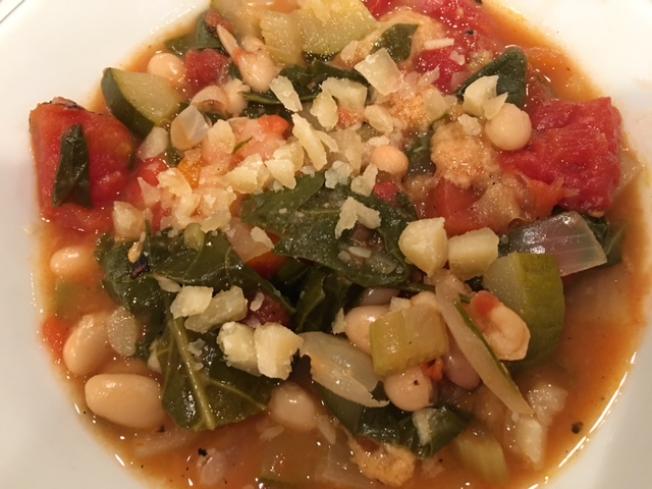 I'm guessing your inbox is filled with recipes for comfort foods as a cold spell envelops the East Coast this weekend, just in time for Valentines' Day, but here's a healthy one to keep you warm and content.
From Ellie Krieger at the Washington Post: "Ribollita, which means "re-boiled" in Italian, is a homey Tuscan stew of vegetables, beans and bread born from the need to use up leftovers by cooking them together to make a new and different meal. That makes it amenable to all kinds of variations depending on what ingredients you have at home. Feel free to swap the type of bean, or substitute chopped broccoli, green beans or red pepper, for example. If you've got home-cooked beans to use instead of canned, the stew will be all the better for it…
Make Ahead: The ribollita can be made in advance, up to the point where the bread is added, and refrigerated for up to 4 days or frozen for up to 3 months. Add the bread after the stew has been reheated."
Another option for including whole grains is by cooking up some bulgur separately, and adding it to the soup. I'm not a great fan of whole wheat pasta, but I do like trying other whole grains. Bulgur is made from whole wheat kernels that have been parboiled, dried and cracked and has been a highly nutritious staple in the Mediterranean. It has a nutty taste and is best known as the grain used in tabbouleh. It can be ready in 15 minutes. It has 6 grams of protein (and 170 calories) per serving, about 3/4 cups.
Makes about 6-8 servings.
Ingredients:
Two 15-ounce cans no-salt-added cannellini or navy beans, drained and rinsed (may substitute 3 cups home-cooked cannellini beans)
4 cups no-salt-added vegetable broth
1/4 cup olive oil
1 medium onion, cut into medium dice (1 cup)
2 medium carrots, scrubbed well, sliced
1 rib celery, cut into medium dice (1/2 cup)
3 cloves garlic, minced
1 medium zucchini, cut into medium dice (1 cup)
One 28-ounce can whole peeled tomatoes, plus their juices, preferably no-salt-added (I used diced fire roasted tomatoes)
1 sprig rosemary – include as whole sprig
1 teaspoon kosher salt (more if the broth is low sodium)
1/4 – 1/2 teaspoon freshly ground black pepper
Pinch to 1/4 teaspoon crushed red pepper flakes
Leaves from 1 bunch (12 ounces) kale, any variety (I used a blend of baby kale and spinach)
1 cup cubed day-old or lightly toasted whole-grain Italian bread, crusts removed (and/or bulgur)
1/3 cup freshly grated Parmigiano-Reggiano cheese, for serving; or sprinkle nutritional yeast to keep it vegan
Directions:
Combine the drained beans from 1 can with 1/2 cup of the broth in a food processor; puree until smooth. This makes the broth heartier.
Heat the oil in a large pot over medium heat. Once it shimmers, add the onion, carrot and celery; cook for about 8 minutes, stirring occasionally, until the vegetables are softened but not browned.
Stir in the garlic and zucchini; cook for 1 minute.
Add the tomatoes one at a time, crushing them in the pot to break them up as you add them, then pour in their can juices (or just use diced tomatoes).
Add the bean-broth puree, the remaining can of drained beans, the remaining 3 1/2 cups of broth, the rosemary sprig, salt, black pepper and crushed red pepper flakes (to taste), stirring to combine. Increase the heat to medium-high; once the mixture starts to boil, reduce the heat to low; cook for 30 minutes, stirring occasionally.
Cut the kale leaves into ribbons or bite-size pieces. Discard the rosemary in the pot, then stir in the kale and increase the heat to medium-high; once the mixture returns to a boil, reduce the heat to low and cook for 15 minutes, stirring as needed.
(At this point, the stew can be cooled, covered and refrigerated or frozen.)
Add the bread cubes; cook for about 15 minutes or until they have mostly dissolved/broken down.
Serve hot, garnished with the cheese.
Adapted from The Washington Post 1/27/16 by nutritionist and cookbook author Ellie Krieger https://www.washingtonpost.com/pb/recipes/ribollita/15114/