We are in Chesapeake Beach this weekend. It hasn't snowed much this year except for some dusty flakes a few days ago that quickly melted when the morning temperature started rising. Last night, there were gusty winds, and the temperature dropped into the teens. The moon was almost full, and its gravitational pull could be seen by the extremely low tide. Over night, part of the bay close to the shore transformed into sheets of ice.
The sunrise was spectacular, with the sky full of grays, whites, bright reds and oranges. The reflection of the sun created swirling shades of pink on ice and shallow sandbars. The seagulls huddled in the early morning as if they were standing on some extraterrestrial islands with all the colors in the specular sky circling madly around them. God, as I often tell my friends, must have been an impressionist.
Every time we've come to the bay in the last five years, I've woken up early to walk with my elderly widowed neighbor who, decades ago, came to the United States from Norway. We walk to North Beach, a town adjacent to our neighborhood, then stop by a local coffee house where I have my usual iced coffee and he, a regular coffee with cream. We share stories of our activities of the week, his being watching sport games, and mine overwhelmingly comprised of work, zoom meetings, home life, exercises, and social gatherings with friends. He often gives me advice whenever I am troubled by aspects of life or work, because he was a successful executive decades ago.
My neighbor was recently diagnosed with cognitive decline. He no longer drives. He still takes the same daily walk, on the same route to North Beach and back. He has trouble remembering what I told him just a few minutes before. His sense of humor and wit thankfully are still intact. I talk more slowly and try to create images in my language, hoping that he can remember my stories a bit longer. I keep my eyes on him as we walk, worrying he might wander into the street or not remember that a particular part of the route is on one-way streets. He asks me the same questions, such as how I found our weekend home. He tells me the same story many times over, such as how he discovered his house. We laugh together at jokes he has shared before.
I am grateful my neighbor still appreciates the beauty of nature. He still marvels at the seagulls lining up on the boulders along our path. He found it amusing that today I bundled myself up in the early morning and wandered alone on the ice sheets behind our neighborhood. I was looking for "treasures' buried on the bed of the bay that we wouldn't ever discover during high tide. I showed him pictures of all the things I found, from sandbars with sea grass etchings, to ice crystals in shapes of Belgian lace, to frozen jellyfish or baby horseshoe crabs half buried in the sand. These are the kind of things that probably only children find fascinating, but like me, my neighbor appreciates nature like a curious child wandering into an enchanted garden under the sea.
I don't know how long my neighbor retains memories of our walks. Someday, he might not recognize me, the same way he can't quite remember the birds hanging out on the boulders are called seagulls. He didn't remember the roll I ordered for him was called a blueberry muffin. He knew he wanted it when I asked what he would like to have with his coffee, by pointing to it and he said "that's what I'd like, whatever it's called" Soon, everything will be called "whatever it is."
I know I am living in a hurry, as many friends have told me. I always urge my friends and patients to "live your moments, live them now." I've tried to slow down my pace by learning to meditate, by taking deep breaths, by remembering that part of living fully is to be aware and focused on what one is doing. Don't get just an impression of things, I tell myself, live as if you can close your eyes and see the details. This morning, I intentionally stopped in various places, pointed to a bird or a plant, and slowly named them for my neighbor, as if I was naming them for a child who was just learning to speak, or a foreigner who had arrived to a new country and needed to learn the new language.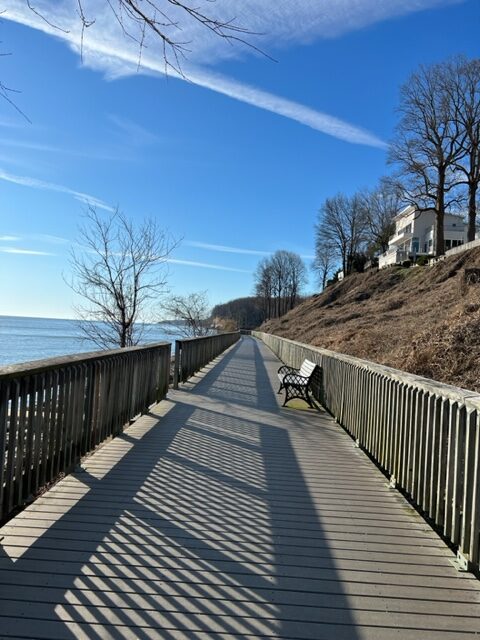 I knew it was irrational to think I could bring back someone's memories by just slowly pointing to an object and naming it. Short term memories go first, so what I named probably will be what my neighbor will forget in a few minutes, while having no trouble telling me which vegetables his mother used to grow in their garden in Norway seventy years ago. Maybe a part of me wanted to be visiting with my lovely neighbor as he had been three years ago, because I worry I will lose him soon to dementia.
Last October, I joined the Himalayan Writers Workshop on a trip to the kingdom of Bhutan. The experience was life transforming, because being alone in this far away enchanting country, I was able to detach myself completely from daily work and home life. We hiked the Himalayas, visited beautiful Buddhist temples, sat in some serene settings to learn how to write essays or keep a daily journal. We started our days with meditation to find our calm, inner-self. The world is often in chaos; It's important to center ourselves and recognize that the chaos around us does not define who we are.
On the last day in Bhutan, at a midway stop on our hike to the Tiger Nest temple, our writing "guru" Eric Weiner assigned us the task of writing a letter to ourselves, that we would receive three months after coming home. It was a rainy, misty day, with heavy clouds covering most mountains around us. We were sitting outside a coffee shop, writing our letters frantically since there was limited time given.
As promised, I received my letter exactly three months later. I didn't remember what I wrote on that misty day. I only remembered that I kept writing nonstop, without thinking, as if I was possessed by a passionate writer who recognized her time was about to be up. I read my letter and realized my subconscious was speaking to me, a woman who wants to experience everything she encounters on her journey through life.
Today, after walking with my neighbor, I recalled my inner-self's advice, knowing at the time I wrote the letter, that I would be thrown back into a hectic life that I created for myself. Maybe it's time for me to slow down and name the birds and the flowers or recall the songs and books I love. I can't predict if my memory will stay sharp as I get older, but like my neighbor, I will continue to walk and enjoy nature, to keep my eyes wide open for the spectacular sunrises on the Chesapeake Bay, and my ears alert for the early morning bird songs.
In Bhutan, my inner self wrote, "You learned to take deep breaths, and be aware that you were breathing, an enormous lesson of gratitude, don't you think? Your days back home had been so chaotic and you often felt you were living for someone else, for the others. No time to stop and grieve for your losses. No time to stop and wonder where you want to head in life. Where do you want to go from here, as the years of your life are fleeting by and your being mortal is sorely felt every day?
Are you back to the grinding wheel, packing your days with headaches from seeing so many patients, answering so many tasks handed over by your staff, planning all these activities for your weekends and evenings? Or, are you rationalizing to yourself, that by packing your days with people and activities, you are living a very full life?
There's a fine line between living a full life and living your life fully, dear Thu. Are you counting breaths? Are you meditating each morning as you enjoyed so much during your writing retreat? Take your time to be by yourself, a rare gift that you often didn't think about.
I know you will miss this journey through Bhutan, where you were reminded that you are living in a world full of illusions. We all think clouds have shapes until we are surrounded by them. We realize we are walking through this shapeless mist that people below us see as dragons, flowers, smiling angels, or devils with horns. You now should remind yourself that you are constantly changing, second by second. The impermanent nature of your being will help you focus on your daily activities without being so intense or so harsh on yourself.
Do what you love, Thu, do what you care most about. Keep your life flowing like a river, and enjoy each season as if it will be your last, but do not pack it with so many activities.
Everything will be OK. Anchor yourself at a good place by going inward daily, and do not forget to say a prayer and spread goodness and love to those in need around you.
Don't let anything or anybody get you upset. Your candidates might not win a race, but the ones who win might not be wise enough to recognize their power is impermanent. Let them live in their illusions."
I need to remember these passages I wrote to myself, when my mind was clear and my heart was at peace in the spiritual landscape of Bhutan. I will try to live fully, until something derails my path, as dementia has derailed my neighbor's peaceful path. Whenever I fear for my neighbor, my sick patients, or the uncertainties of what is to come, I need to take deep breaths, focus on my moments, and recognize the many joys often ignored when I live on a hurry