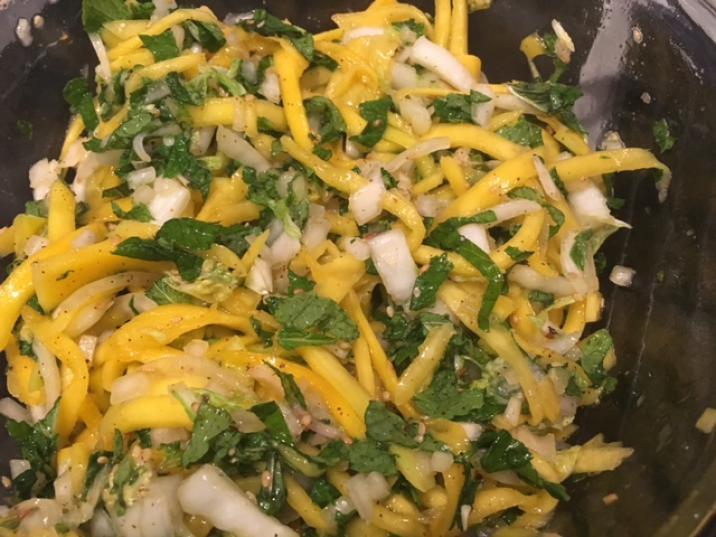 Adapted from cooking class with Ms. Vy in HoiAn, Vietnam March 2016
See Asian chicken BBQ recipe for more details
This mango salad was meant to be prepared with prawns. I can't remember if we had tofu or chicken or nothing in it's place. At home, I tried it again with 1 cup of napa cabbage instead of prawns. For the HoiAn chili sauce, I found one at Great Wall that was Yeo's chili with garlic sauce, moderate heat, from Malaysia, which worked perfectly.
I was unable to get the shallots nice and crispy like they did at the cooking class. I probably had to bread and deep fry them. Instead, I stir-fried them until they were dark, then blotted the oil off. Not quite the same, but a drop healthier.
This salad was excellent – I brought it to our recent inaugural LadyDocs book club session about The Lotus and the Storm by Lan Cao, which featured Vietnamese food. It took me a while to get all the various parts of this salad together, but my group LOVED it! Plus, I got to use my new slicing tool that was given to us at the end of our cooking class. Fingers, beware!! The salad was even better the next day, as most slaws are, although there was just a paltry bit left. I served it alongside a mild dish of Mahi Mahi with a green sauce, as well as stir-fried vegetables.
Serves 4 – 6 as appetizer.
Ingredients:
1 green mango, sliced
1 cup onion, sliced finely
1.5 cups mixed Vietnamese mint and mint
1 cup Napa cabbage, sliced
1.5 Tbsp salad dressing (ingredients below)
2 tsp sesame seeds, roasted
1/2 tsp HoiAn chili sauce
1/4 tsp sea salt
pinch of coarse black pepper
1 Tbsp shallot oil – optional
2 Tbsp fried shallots – excellent, crispy – if you can figure out how to make them
4 rice crackers
Salad dressing:
1 Tbsp lime juice
1 Tbsp white sugar
1 tsp fish sauce – I used vegetarian fish sauce
1 tsp garlic and red chili pounded – or substitute a very light sprinkle of garlic powder for the latter.
Directions:
For salad dressing, put lime juice and sugar in a bowl, stir to dissolve. Add the fish sauce and garlic and chili, then mix.
Put oil in sauce pan. Slice shallots thinly. Then sauce until toasted, but do NOT burn.
For the salad, put mango, cabbage, onion, 1 cup of mint, 1 tsp of sesame seeds and dressing.
Add to mango. Mix and toss. Season to taste.
Serve on 4 small plates and garnish with remaining mint, sesame seeds and fried shallots. Serve with rice crackers, if you choose, or as a side with fish or chicken.