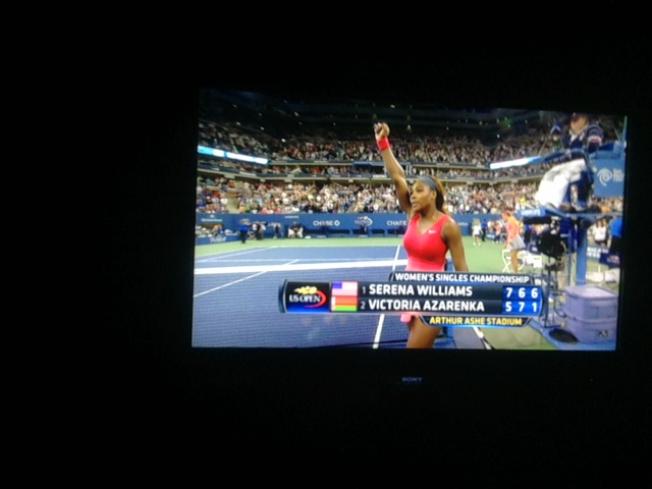 I just can't help but telling you how excited I was to see Serena Williams winning the Women's U.S. Open 2013! As all my friends and family know, I have never been a good sports spectator. I get distracted easily and always believe it is a big chunk of time that many of us waste watching sports on TV instead of being out there exercising ourselves. When it comes to the Williams sisters, however, it has always been a treat to watch them play, especially the lively Serena.
To me, Serena Williams is the ultimate picture of fitness. Many of my friends and families are astonished to hear me rave about how "beautiful" she looks.
"Beautiful? Are you serious? She looks like a man! Look at her arms!" They would tell me.
My response to these folks?
"She does NOT look like a man. She looks like a STRONG woman!"
As a gynecologist and a middle aged woman, I believe I understand the more healthy beauty of women. Musculature implies stronger bones. Serena doesn't have the "fragile" look of underweight Hollywood stars or super models. Unlike them, however, she will be able to walk for decades with her upright posture since she most likely will not have to deal with the complications of osteoporosis.
Years ago, Serena inspired me enough to start doing daily pushups. On the days I do not have enough time to go to the gym, I watch the nightly news and do a hundred or more pushups, in three sets of 30 to 40 reps. This might sound daunting and almost crazy to many of you, especially those with a weak neck, but it can be done over time with practice and care. I know I will never have arms like Serena due to my genetics, but I would be happy to have a fraction of her strength as I am getting older.
Back to the Women's U.S. Open Final, Serena played her best tennis even when she's 32 years old and her opponent Victoria Azarenka was only 24. She has shown us how, with exercise, her endurance and strength allowed her to defeat a woman who was much younger. She also has that tough mind and focus which every winner has to possess. The mind is as important, if not more important, than the body in an intense competition.
So, I want to salute my favorite tennis player Serena Williams, as she again won the US Open tournament with such focus, determination and great strength. I was just a bit shocked to hear how much she will receive for winning the tournament $3.6 million ($2.6 million purse plus $1million bonus)! David and I watched as Victoria Azarenka cried afterward because of her disappoinment at losing, not because she won't be the one who will bring home $3.6 million from this game – after all, she will receive $1.3 million plus a $250,000 bonus and, at 24 years old, Azarenka has already won more than $21 million. She currently ranks number two in the world. Pretty amazing for a cute girl from Belarus (former Soviet Union). It was a good thing Azarenka listened to her grandmother and continued with her tennis career. She almost dropped out of tennis once for her college degree!
Tomorrow, many of us, including my husband David, will be focusing our attention on the US Open – men's final. This is another number 1 vs. number 2 match-up (Djokovic versus Nadal). You have to agree with me, however, that neither of the men in their final has as strong muscular arms as does my hero Serena. How can we say she looks like a man? Maybe the men should do more pushups to look like a strong woman!