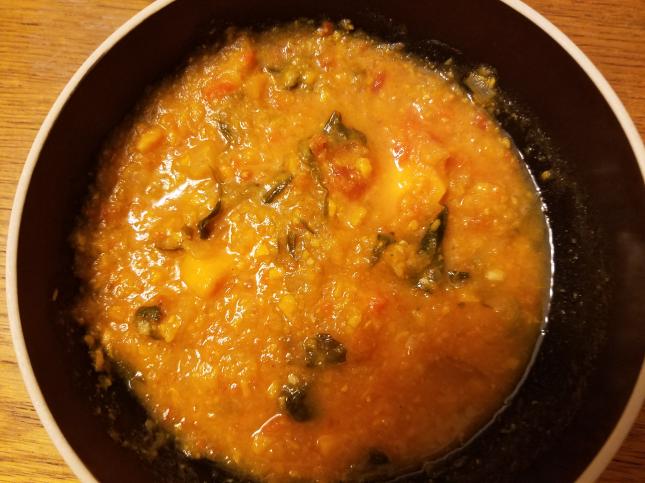 Adapted from "Main Course Vegetarian Pleasures" by Jeanne Lemlin
This time of year, I crave hearty soups and stews. I served this to a group of friends recently and several asked for the recipe. It has a healthy mix of vegetables, which gives it a lot of flavor. I use prepared vegetable broth that has salt in it. You may need to add salt if your broth does not contain salt.
Ingredients:
¼ cup olive oil (I use 2-3 TBSP)
3 onions, chopped
4 garlic cloves, minced
2 celery ribs thinly sliced
6 cups vegetable broth/stock
28 oz can diced tomatoes
2 medium/large sweet potatoes, peeled and cut into 1-2 inch dice
1 carrot thinly sliced
¼ tsp nutmeg
dash of cayenne
generous seasoning of fresh ground pepper
5 ounces (5 cups lightly packed) fresh spinach, kale or Swiss chard torn into pieces
Directions:
Heat the olive oil in a large stockpot over medium heat. Add onions, garlic and celery and sauté, stirring often, for 10 minutes.
Stir in the remaining ingredients except for the greens.
Bring the soup to a boil, then reduce to a simmer. Cook, stirring occasionally, for 45 min or until the sweet potatoes are tender.
Use an immersion blender to blend it somewhat, still leaving chunky pieces (or remove 2 cups of soup, puree, then return to pot).
Stir in the spinach, kale or swiss chard and cook about 5 more minutes, until the greens are tender.