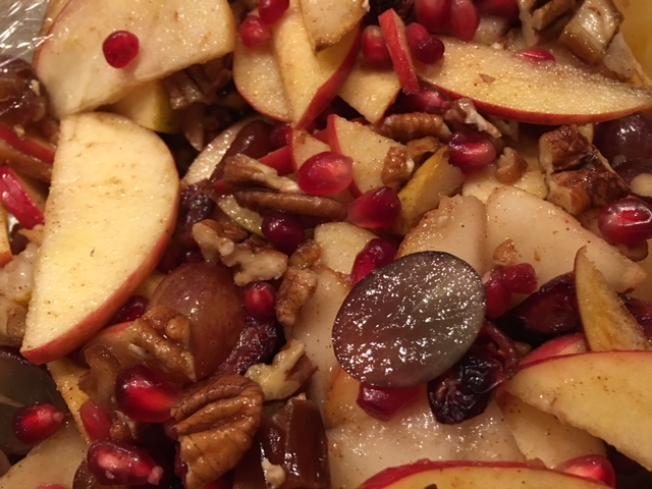 Adapted from www.passthechallah.com
I made this for Thanksgivingand New Years Day and everyone loved it! It's a good change from the usual fruit salads. The lemon in the dressing keeps the apples from turning brown. It's best, though, if used the same day as it is prepared because the pears start to get soft overnight.
Ingredients:
⅔ cup pecans
4 pears
4 apples
⅔ cup pomegranate seeds
4-6 figs (I didn't have figs so I used dates; would increase the quantity of either)
1 small bunch grapes
¼ cup maple syrup
1 tsp cinnamon
¼ tsp vanilla
1 tsp lemon juice
Orange zest for garnish (optional)
Instructions:
Lightly toast pecans in a 350 degree oven for 5-6 minutes, or until golden and fragrant. Roughly chop.
To make the dressing, pour maple syrup, cinnamon, vanilla, and lemon juice in a small bowl and stir until combined.
Cut pears and apples into thin slices. Quarter figs and half grapes.
Combine pecans, pears, apples, figs, grapes, pomegranate seeds in a large bowl. Toss with dressing, adding a little at a time until the desired amount is reached. Top with a sprinkling of fresh orange zest if desired. Enjoy!