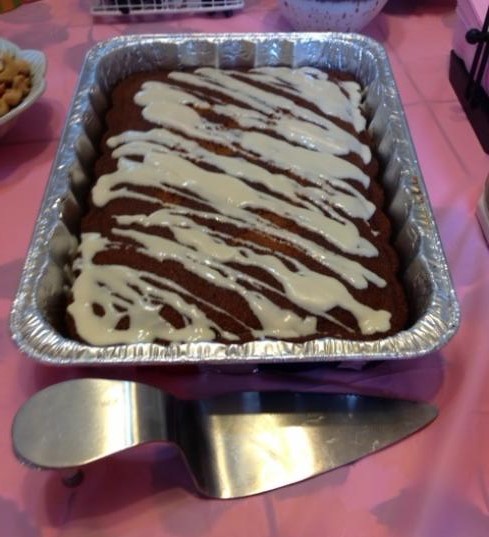 DESSERT
Adapted from allrecipes.com
You Never Know Where You'll Find the Best Cake Recipes!

Who knew I would get so many compliments from a cake recipe that I snagged from my stepson-in-law Kenny! It is his secret "sauce" that truly makes this carrot cake so delish. As you will see, the secret is to pulverize the shredded carrots into a puree versus leaving them shredded. So my advice for fellow bakers…next time you want a delish recipe, turn to a man. Ha! Thanks Kenny.

By the way, if you give the recipe a try, I'd love to hear how it turns out and the response from friends and family. Happy Baking!
Sheila B.
INGREDIENTS FOR THE CAKE:
4 eggs
3/4 cup vegetable oil
1 1/2 cups sugar
2 teaspoons vanilla extract
2 cups whole wheat pastry flour (Whole Foods carries it)
2 teaspoons baking soda
2 teaspoons baking powder
1/4 or so teaspoon of salt
2 teaspoons ground cinnamon (I use pre-made McCormick spices)
3 cups grated carrots **(See my secret twist below to prepare this ingredient making the cake incredibly moist)
1 cup chopped pecans (These are optional and I rarely incorporate given so many nut allergies)
FROSTING:
I use Duncan Hines vanilla glaze and drizzle it over each cake layer. I do not fully frost the cake since it's the cake you want to feature. However, feel free to use whatever frosting you like, just make sure to use sparingly.
DIRECTIONS:
Prepare cake pans. I like to make three layers but you can choose any – layer, Bundt, cupcakes or sheet cake. Grease and flour pans. (I use one-step Pam baking spray).
In a bowl, beat together with a spoon, the eggs, oil, sugar and the vanilla extract.
Mix in the flour, baking soda, baking powder, salt and cinnamon. Stir in puréed carrots.
(**My twist on grated carrots. Measure three cups shredded carrots. Giant supermarket carries pre-shredded bags of carrots. Put three cups into a food processor and beat until it's a puree. I sometimes put a few teaspoons of water in the food processor/mixer if needed).
IF you opt for pecans, fold them in last.
Pour into prepared pans. Bake at 350 degrees if using glass pans or 325 degrees if using dark pans. Typically it takes between 20-25 minutes or less. I would check it at 20 minutes and then every few minutes. Better to cook slightly under time than over.
Cover with foil while it cools. It locks in the moisture. When completely cooled, frost the cake and let it set for 15-20 minutes before covering again. It does not require refrigeration unless you choose to use cream cheese frosting.
Enjoy!
Calories: assuming 8 servings, 300 calories per serving without the pecans, 407 calories per serving with the pecans.