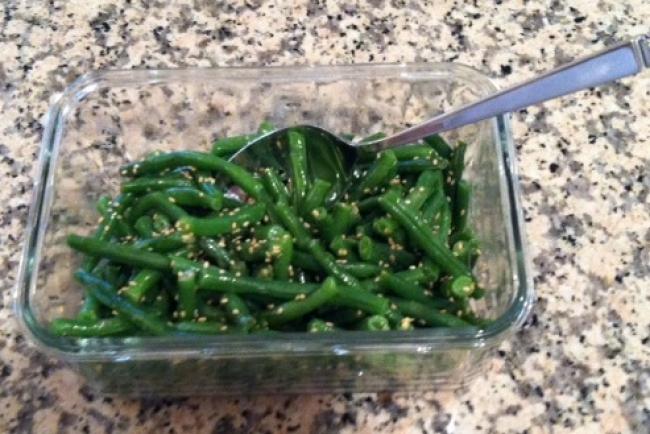 Adapted from www.epicurious.com. Makes 6 servings.
Ingredients:
1 1/2 lbs green beans, trimmed
3 Tbsp olive oil
1 tsp Asian sesame oil
1 Tbsp white wine vinegar
2 tsp Dijon mustard
1/4 – 1/2 tsp salt, to taste
1/4 tsp black pepper
2 Tbsp sesame seeds, toasted (you can purchase them toasted or bake at 325 for a few minutes in a Pam-sprayed toaster oven pan. Watch carefully, or they will burn.)
Directions:
Steam green beans for 3 minutes. If you don't have a steamer, you can cook uncovered in salted boiling water until crisp-tender, but you will lose some of the nutrients this way. If cooked this way, douse with cold water to stop cooking. Drain beans and pat dry.
Whisk together oils, vinegar, mustard, salt and pepper in a large bowl until combined well. Then add beans and sesame seeds and toss to coat.