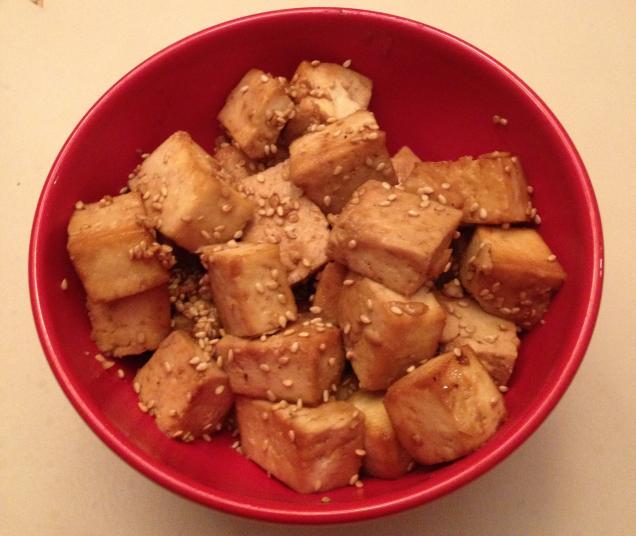 MAIN DISH
This is a very simple recipe that can be prepared stovetop or in the oven. My preference is in the oven because it requires less attention, but either way works well. If you choose the oven, preheat to 400 degrees.
Ingredients:
1 lb block extra-firm organic tofu
4 Tbsp brown rice syrup
2 Tbsp low sodium soy sauce (or Tamari gluten-free)
1 Tbsp toasted sesame oil
1 small clove garlic, finely minced
1/8 – 1/4 tsp chili powder, to taste
1/3 cup water
toasted sesame seeds
Directions:
Mix all ingredients for sauce.
Drain tofu of all water. If time permits, let it sit in a colander and drain. Cut into squares.
Mix tofu and sauce; marinate for a few hours if able.
Cook tofu over medium to medium-high heat until the liquid is absorbed, turning periodically. Add water if pan is dry before tofu is cooked through. It should take about 20 minutes, but watch carefully to avoid burning the pan. If you are baking instead, turn the tofu after 10 minutes, and 20 minutes, then every few minutes as needed to give it a toasted look with minimal remaining liquid.
Sprinkle with sesame seeds, to taste.