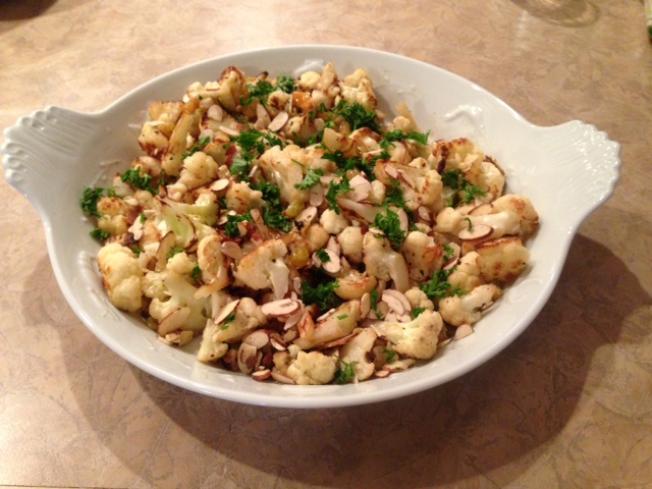 SIDE DISH
CARAMELIZED CAULIFLOWER ( from Todd and Ellen Gray's " The New Jewish Table")
Ingredients:
1 cup golden raisins
2 tablespoons canola oil
1 tablespoon unsalted butter
1 head cauliflower ( or the equivalent mix of several heirloom varieties),cut into 1/2-inch florets.
1/2 cup toasted slivered almonds
1 tablespoon chopped parsley
3/4 teaspoon salt
1/8 teaspoon freshly ground black pepper
Directions:
Soak the raisins. Place the raisins in a small bowl. Add hot water to cover and set aside to soak for 1 hour. Drain in a mesh strainer.
Cook the cauliflower. Heat the oil and butter in a large saute pan over medium heat. Add the cauliflower and cook without stirring until caramelized on the bottom—2 to 3 minutes (the less the cauliflower moves in the pan, the more evenly it will caramelize). Turn florets over and caramelize the other side in the same way, cooking until the cauliflower is crisp-tender and its edges are golden brown. Add the raisins, almonds, parsley, salt, and pepper. Toss well to combine. Taste and add more salt and pepper if you wish (we thought the recipe needed a bit more salt). Serve immediately.
Next time, I might add a few drops of Balsamic vinegar to see what the dish would taste like, since our family likes balsamic vinegar. Creativity might lead to something even better.
I hope you will enjoy this dish as much as we did!