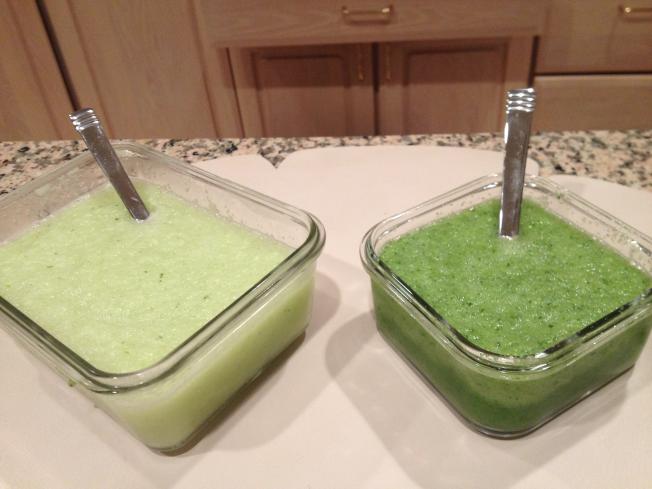 SIDE DISH
Arugula is a dark leafy green, so like spinach and others, it is a good source of calcium, vitamins A, C, K, as well as iron, calcium and potassium. Potassium has been shown to help keep blood pressure in good range. It is classified as a cruciferous vegetable, like broccoli or cauliflower, so as mentioned in Thu's cauliflower article, perhaps it has some cancer-prevention benefits, as well. At 5 calories per cup, it is low in fat and high in fiber and has all the other benefits noted — not a bad deal!
If you buy arugula in a bag, it is usually the smaller, milder variety, and has been pre-cleaned.
At a farmer's market, you might see it sold by the bunch; in that case, the leaves will be larger, with tougher stems and the taste will be more peppery. Be sure to remove the stems and rinse the leaves well, to remove loose dirt.
Since the taste can be strong, when I use it in a salad, I like to mix it in with other greens, to give it a bit of a kick. The soup recipe below is a good way to get its health benefits, but cooling it down at the same time.
Adapted from Canyon Ranch Nourish – indulgently healthy cuisine
This is a nice cool, low calorie soup for the summer. My family pointed out that it tastes just like gazpacho, without the tomato — and it's true. I happen to like the nutty, peppery taste of arugula, so I made some with an extra 1/4 cup of arugula blended into the soup – hence the two different shades in the soup bowls pictured above, mine being the darker one.
The nice aspect of making this in the blender is that you can decide as you go how much, if any, arugula to add. The original recipe calls for topping the soup with heavy cream, but I opted for plain yogurt, adding just a touch of protein to the dish.
See the photo below for a quick way to de-seed a cucumber. Just cut it in half and run a spoon down the middle. Then slice the cucumbers lengthwise, and chop them horizontally all at once — quick and easy.
Ingredients:
3 medium cucumbers, peeled and diced
1 cup water
1/4 cup diced onions (white or sweet onions are best)
2 Tbsp fresh lemon juice
1 tsp minced garlic
1 1/4 tsp sea salt
1/4 tsp freshly ground black pepper
2 Tbsp plain yogurt (or heavy cream or non-dairy yogurt or cream)
1/4 cup julienned arugula (can add more in blender, to taste)
Directions:
Combine the cucumber, water, onions, lemon juice, garlic, salt and pepper in a blender and purée until very smooth. If you choose to add in more arugula, this is the time. Re-blend until smooth. Refrigerate in a covered bowl for at least 30 minutes, or until well chilled.
Serve 3/4 cup cucumber soup with 1 tsp yogurt or cream and a sprinkle of arugula.