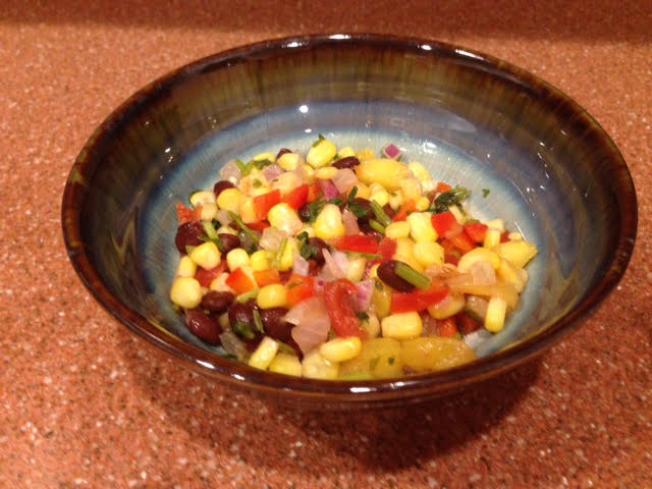 Dr. Rajagopal, fondly known to her patients as "Dr. Raj," is a well known oncologist in our area. She's highly intelligent, knowlegeable, and dedicated to patient care. She's known for making rounds in the middle of the night to check on her patients and for missing our group exercise sessions many times even when they were held at her house. Her patients are her priority.
Dr. Raj is a strict vegetarian and a fabulous cook. She's known to stroll into a workout with a big container of freshly made vegetarian dish for those who came to the session. Her dishes are beautifully presented, meticulously made with multiple ingredients. Not only the dishes are healthy, but the flavor of each dish is unique and simply marvelous. We always look forward to the end of the class to see which culinary adventure Chitra presented to us in that particular week. Like a typical "home made" chef, Dr.Raj often can't recall all the colorful ingredients she added to her dishes. She is a creative chef who, by experience, can add a dash of this and a pinch of that, and turn her creation into a marvelous dish that might not be the same the second time around, depending what grows in her garden or on her tour to the specialty food stores.
Below is a wonderful and tasty "all season" salad Dr. Raj came up with last week after our yoga session. At our request, she jotted down the ingredients and how she made this simple but healthy and tasty salad. We hope you will enjoy this dish as much as we did!
Ingredients:
1 red onion
Cider vinegar, enough to marinate the diced onion
1 Red Bell pepper
1/4 pineapple ( can be canned pineapple)
1 small chilli, seeds removed
A large bundle of cilantro, chopped
1 can of diced tomatoes or ripe tomatoes
1 tart green mango or green apple
1 jicama (optional), shredded
1/2 inch ginger
1 can Black bean, drained.
1 lb of frozen corn
1/4 cup lemon juice
Salt to taste
Dice one red onion into very small pieces and marinate it in cider vinegar for 20 minutes. In the mean time, dice finely one red bell or any other color pepper, 1/4 pineapple, I small chilli, seeds removed, a large bunch cilantro, ripe tomatoes either fresh or canned, one tart green mango or a tart green apple. Any of the ingredients can be omitted. Also, shred the ginger finely.
Mix all above ingredients in a dish, add the onions to this mixture, as well as one can of black beans well drained and rinsed. Add 1/4 cup of lemon juice to this mixture, fresh or bottled, and let the whole mixture marinate for 30 minutes or upto overnight in a refrigerator. Place 1 lb of frozen corn out to thaw. Just before serving, add the thawed corn to the vegetable mixture and add salt to taste. The corn is still cold which adds crunch and texture to the mixture. You can be creative and add shredded Jicama if you like. It is the cold fresh crunch that kicks it up. Very simple.