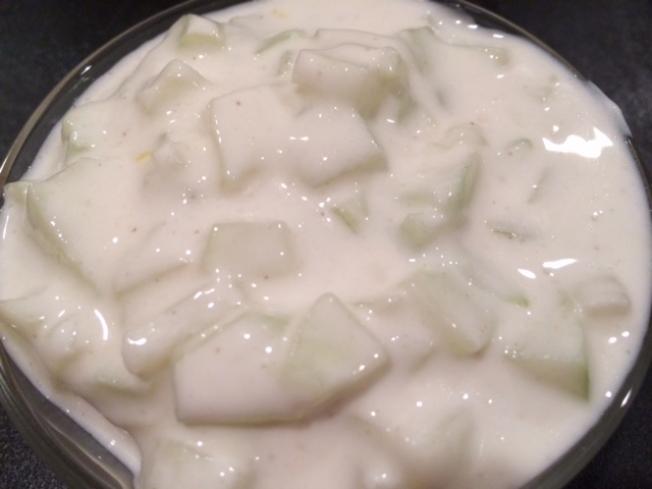 This cucumber-yogurt salad is a dish we started making years ago. We had dinner with friends this weekend. They made kabobs and asked me to bring tzatziki. When I looked in my Greek recipe book, I found my daughter's note: "Yummmm!". It's so simple to make, and VERY tasty – and improves each day! This adaptation is a low fat version that tastes plenty rich.
Ingredients:
1 Tbsp olive oil
1 Tbsp white wine vinegar
2 cloves garlic, chopped
1/2 tsp salt
1/4 tsp white pepper
3/4 cup no fat Greek yogurt (I used 0% Fage)
1/4 cup low fat sour cream
2 cucumbers, peeled, seeded and diced
1 tsp fresh dill, chopped
Directions:
Combine olive oil, vinegar, garlic, salt and pepper and mix well.
In a separate bowl, blend together the yogurt and sour cream. Combine this mixture with the oil mixture.
Add cucumbers and mix thoroughly. Chill for an hour or overnight before serving.
Just before serving, sprinkle with dill.
If serving with pita, put the pita in the oven at 350 for 5 minutes or so.