I can't even tell you how many times I've substituted ingredients in this recipe. No quinoa? No problem – use dry rolled oats right out of your breakfast container, or cooked farro, barley, whatever. Vegan and want to avoid honey? Use a combination of maple syrup, date syrup and/or molasses instead. Care to add coconut flakes, cacao nibs, a little vanilla extract, go for it! Every time I share these bars with friends, they ask for the recipe. And, once you line your ingredients up, it takes about 5-10 minutes, beginning to end.
I prefer to use 3 Tbsp maple syrup plus 1 Tbsp date syrup, but almost any combo will do. In choosing your sweetener, the amount of sugar per 1 Tbsp:
–honey 17 grams
–date syrup 13 grams
–maple syrup 12 grams
–molasses 10 grams.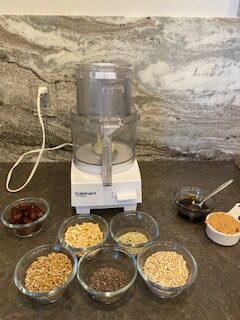 Makes 24 small squares or 12 small bars.
Ingredients:
8 – 10 Medjool dates, pitted
1/2 cup raw almonds
1/2 cup raw sunflower seeds
1/2 cup cooked quinoa
2 Tbsp chia seeds
1/2 cup unsalted peanut butter (smooth or crunchy works)
1/4 cup raw honey (or combo of maple syrup, date syrup and/or molasses to make up 4 Tbsp)
1 Tbsp hemp hearts
Directions:
1)  Add the dates to the bowl of a food processor and process until chopped.
2)  Add the nuts, quinoa and seeds, including hemp and process until a meal has formed. 
3)  Add the peanut butter and honey and process until a thick dough forms.
4) Transfer the dough to a parchment-lined baking pan. A square baking dish works well. 
5) Place the bars in the freezer until set, about 1-2 hours.  Remove from the freezer and slice into squares or bars.  Store in the freezer until you're ready to eat them.  They're tasty when they reach room temperature, but I like them best when eaten soon after removing them from the freezer.