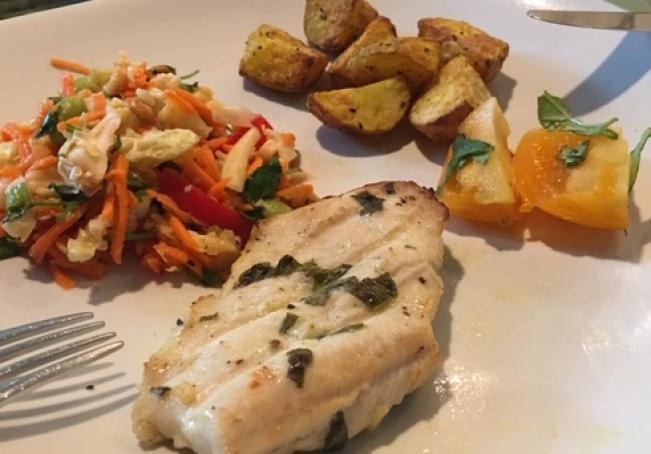 Amy Riolo is an award-winning author, lecturer, food historian and cooking instructor. This recipe is adapted from her book, The Ultimate Mediterranean Diet Cookbook, Harness the Power of the World's Healthiest Diet to Live Better, Longer. Part of her journey revolved around trying to understand why her relatives who continued to live in Italy were so much healthier than the ones who were living in the United States. After living in and visiting Italy and other Mediterranean countries, she drew some conclusions. Among them is that in the Mediterranean, food is treated as medicine, moderation is key and an active physical and social lifestyle is mandatory. In the medical field, we favor the same lifestyle choices.
When I was in medical school in the '80's, basic nutrition was not taught. Then again, pathology professors and respiratory techs were still smoking in the hospital and academic buildings. We've come a long way, baby.
Many years and many studies later, we are well aware that the conclusions that Amy Riolo reached are key to good health. After all the fads have been looked at, a Mediterranean style diet is still the most favored. Fill your plate with a majority of fruits, vegetables, whole grains, beans, nuts, seeds, legumes and healthy oils, with some fish and lean meat if you choose.
LadyDocs was fortunate to have a personalized cooking lesson at Dr. Hammersley's home several years ago, after this cookbook was published. It gives a good background about the value of Mediterranean cooking, along with many recipes that are in keeping with its principles. If you live in the Washington, DC area and are inspired by her recipe and book, she will be talking about customs, foods, and ingredients for her cooking, followed by a reception, at the Smithsonian on Thursday, July 25th.
Here's a basic recipe to alter to your own tastes. She notes that the marinade can also be used for turkey or fish. We're growing 'Greek oregano' this year, and this is my first opportunity to try it. I used the herbs she suggested, as well as chives, all from the garden! The chicken can be prepared in a skillet, as she suggests, or grilled or broiled – I chose the broiler. Remember to scoop up the extra sauce from the broiler pan. Leftovers are great on salads. It's shown above with a delicious Asian slaw made with peanuts (watch for the recipe!) and roasted potatoes from my slow cooker – great dinner!
Ingredients:
2 pounds chicken breast
1/2 cup lemon juice (about 2 lemons)
4 cloves garlic minced
2 Tbsp chopped fresh basil
1 Tbsp chopped fresh oregano
1 Tbsp chopped fresh mint
1/2 tsp unrefined sea salt or salt
1/4 tsp freshly ground black pepper
Directions:
Whisk the lemon juice, olive oil, garlic, basil, oregano and mint well to combine. Place the chicken breasts in a large shallow bowl or glass baking pan, and pour the dressing over the top.
Cover, place in refrigerator and marinate for 1-2 hours. Remove from the refrigerator and season with salt and pepper.
Heat a large, wide skillet over medium-high heat. Using tongs, place chicken tenders evenly in the bottom of the skillet. Pour the remaining marinade over the chicken.
Allow to cook for 3-5 minutes each side, or until chicken is golden, juices have been absorbed, and meat is cooked to an internal temperature of 160 degrees F.