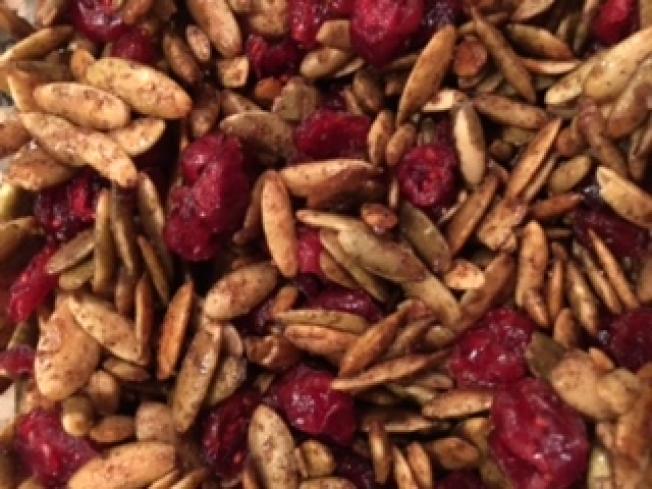 The impetus behind this recipe was to provide an easy-to-serve healthy snack at Lady Docs' first health fair this weekend. It is adapted from the Canyon Ranch cookbood, Nourish. In addition to this, we also served a black bean, corn and tomato salad, as well as Dr. Aruna Nathan's roasted lentils and a separate lentil salad. Watch for all of these over the next week or two.
The roasted pumpkin seeds are my new favorite crunchy snack! I decreased the cranberries in the recipe, because I prefer the crunch to the sugar. After toasting them, the seeds stick together a bit and are like granola. Just watch them carefully because there's a only a short interval between 'toasted' and 'burnt'! One is good, the other not so much!!
Pumpkin seeds are a rich source of 'good fats', i.e. mono- and poly-unsaturated oils, as well as a good source of fiber, iron, magnesium and phosphorus.
Dried fruit is notorious for being full of sugar. Look for the lowest sugar content you can find. Trader Joe's and Nature's Promise at Giant have varieties that have 26 grams of sugar per 1/4 cup (versus up to 32 grams for some of the others). I tried substituting other dried fruit, but the tart taste of cranberries fits perfectly with the seeds. I just decreased the measure from 1 1/4 cups to under a cup.
I didn't let my family taste this before I brought it to our health fair because I was afraid there might not be enough left for anyone else. I'm looking for more of these healthy snack recipes to make on my own in order to avoid the 'extras' in many of the packaged snack bars.
Let me know what you think!
Ingredients:
1 cup pumpkin seeds
1 1/2 tsp canola oil
1 1/3 tsp pure maple syrup
1/2 tsp ground cinnamon
1/2 tsp ground nutmeg
1/4 tsp ground allspice
1/2 tsp sea salt
about a cup of dried cranberries.
Directions:
Preheat the oven to 300 degrees. Lightly spray a baking sheet with canola oil spray.
Toss the seeds and canola in a small bowl. Spread the coated seeds evenly on the baking sheet. Roast for about 20 minutes, or until almost dry. Watch carefully!
Place the seeds in a medium bowl and stir in the maple syrup until coated.
Combine the cinnamon, nutmeg, allspice and salt in a small bowl. Add the spice mixture to the pumpkin seeds. Stir to combine.
Return the pumpkin seeds to the baking sheet and roast for 15 minutes or until dry, stirring occasionally. Turn the pan several times to ensure even roasting, checking frequently. Set aside until completely cool, about 30 minutes.
Combine the seeds and dried cranberries in a large bowl. Store in a tightly sealed container.