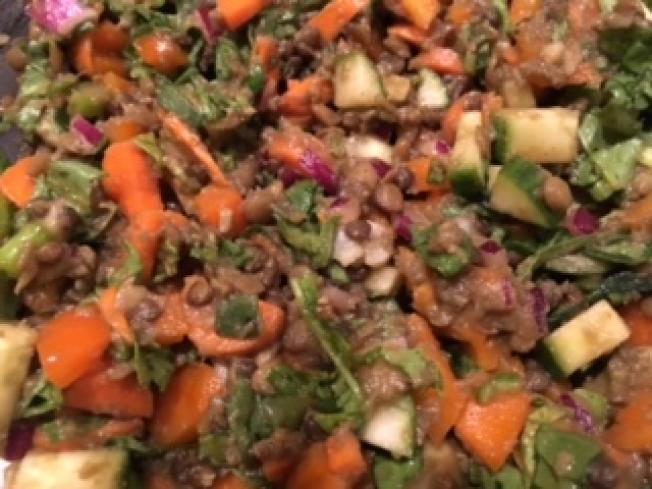 Lentils are my new favorite protein source – a great component of a plant-based diet. They are very filling, with lots of folate and iron, and naturally gluten-free. Lentils are very versatile, they can be eaten alone, on a salad, or in soups or stews. This recipe is the equivalent of my end-of-the-week stir fry that uses up any odds and ends in the refrigerator. As written, it is just a suggestion. I think the red onion is key in providing flavor. For the dressing, you can use any vinaigrette, but make sure there's enough vinegar, salt and pepper to provide a burst of flavor. I've never done it myself, but if you're interested in sprouting lentils, see Dr. Aruna Nathan's post! Here's an excerpt:
Sprouting helps with digesting lentils as the process breaks down some of the sugars that produce intestinal gas.
Sprouting increases the amounts of certain vitamins, especially Vitamin B and C and other elements, especially increases antioxidants.
INGREDIENTS:
1 cup of cooked lentils (green or mixed variety – 1 cup lentils to 3 cups of water)
1 cup chopped arugula or spinach
1-2 carrots, chopped
1/2 cucumber, chopped
1/4 red onion, chopped
2 scallions, sliced
DRESSING:
2 Tbsp olive oil
1 Tbsp apple cider vinegar
1 Tbsp lo sodium soy sauce
1/2 tsp brown sugar
1/4 tsp black pepper
1/4 tsp salt
DIRECTIONS:
Mix all salad ingredients, keeping lentils separate.
Mix all dressing ingredients, whisk, add half to the lentils and mix.
Add lentils to salad, add the remainder of the dressing to the salad, as needed.