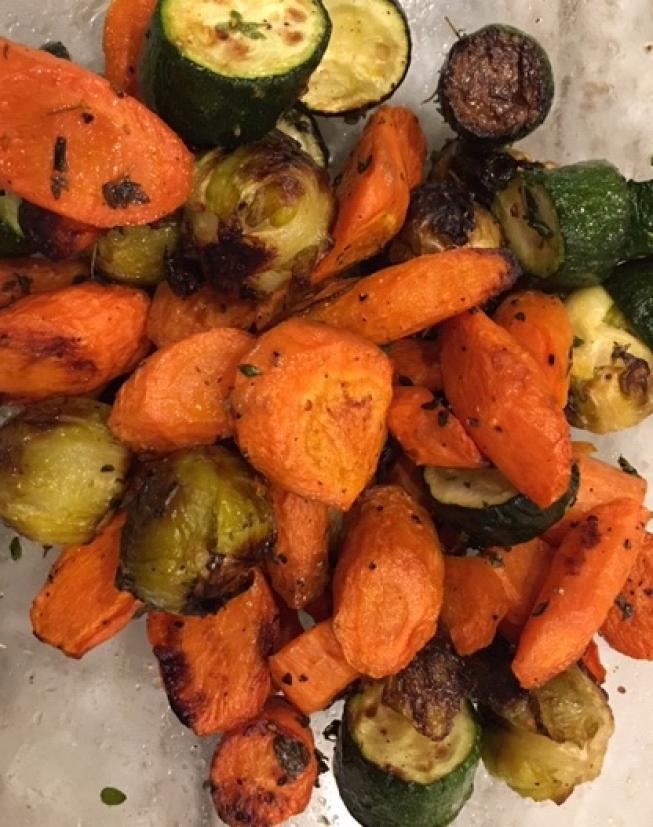 Adapted from www.onceuponachef.com
January is usually a time for getting back to healthier eating and quiet times at home. Here's a recipe that's simple to prepare and very tasty! It's my latest go-to for a side dish that goes with almost anything. Use a generous quantity, as the carrots do shrink when roasted, although not as much as some softer veggies. A good vegetable peeler is essential. The one I have from Williams Sonoma gets the job done in no time, and it's about 10 years old. The photo above shows the addition of zucchini, which I happened to have on hand.
Servings: 4
Total Time: 30 Minutes
Ingredients:
2 pounds fresh carrots, peeled
2 tablespoons extra virgin olive oil
1/2 teaspoon kosher salt
1/4 teaspoon freshly ground black pepper
2 teaspoons fresh chopped thyme (or 1/2 teaspoon dried)
Directions:
Preheat the oven to 425 degrees. Line a baking sheet with aluminum foil.
Slice the carrots on the diagonal about 1-½" thick. Make sure all pieces are approximately the same size to ensure even cooking.
Combine the carrots, olive oil, salt, pepper and thyme in a large bowl and toss well. Transfer the carrots to the prepared baking sheet and roast, stirring once mid-way through, until nicely caramelized and tender, 20-25 minutes (cooking time will depend on thickness of carrots). Taste and adjust seasoning if necessary.