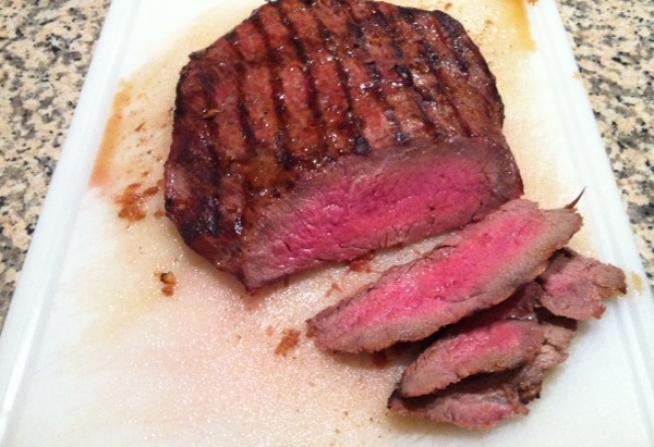 MAIN DISH
TERIYAKI FLANK STEAK – adapted from The Washington Post
The key to this is the sake which makes the meat incredibly tender!
Ingredients:
1/4 cup lite soy sauce
1/4 cup sake or dry sherry (I prefer Haiku brand Sake)
2 Tbsp brown sugar
3 cloves garlic, minced
2 Tbsp grated ginger root
2 Tbsp peanut oil
1 1/4 pounds flank steak
Directions:
In a medium bowl, combine the soy sauce, sake, sugar, garlic, ginger and oil. Place the steak in a large shallow dish, add the marinade and turn to coat. Cover and refrigerate, preferably for at least 8 hours, turning occasionally.
Preheat the grill or broiler. Remove the steak from the refrigerator 15 minutes before grilling.
Transfer the steak to a plate, discarding the marinade. Cook, turning once, to the desired degree of doneness, 4-5 minutes per side for medium. Transfer to a platter and cover loosely with foil; set aside for 5 minutes.
Carve on the diagonal, against the grain, into 1/4″ thick slices. Notice that the cutting board I used has a ridge along the border which catches all the juices. Pour these over the sliced steak, especially if refrigerating leftovers.
4 servings at 194 calories per serving — if you can stick to that serving size! That includes all the marinade ingredients, which aren't actually all consumed.
To read the article this recipe came from, Click Here.